Canon ME20F-SH - Full HD colour video footage in extremely low light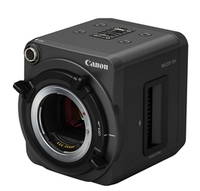 Canon has announced the launch of the ME20F-SH, a professional multi-purpose video camera capable of capturing full colour images in extremely low-light environments. Boasting an industry leading unrivalled maximum ISO in excess of 4 million (+75dB), the ME20F-SH is designed to be as small as possible whilst delivering high quality professional grade Full HD footage.
Supporting image capture in situations where it previously would not have been possible, the ME20F-SH is ideal for use within specialist applications such as TV productions of nighttime wildlife, deep sea/cave exploration, astronomy and surveillance. The ability to install the camera in a semi-permanent location, with remote control operability also means that for documentary and natural history filmmakers, long term projects and events can be captured with minimum staffing. Due to the specialist nature and demand for this product, the ME20F-SH will only be available to selected partners.
First class infrared capability
Capturing video in low-light conditions often requires the use of infrared illumination, a technique that traditionally only yields footage in black and white. The ME20F-SH however, achieves impressive high-sensitivity performance enabling the capture of colour Full HD video with reduced noise, even in low-light conditions and without the need for infrared illumination.
Exceptionally high sensitivity
Designed to be used in situations where ambient light levels are extremely low, the ME20F-SH features a newly developed Full Frame 35mm with 2.26 MP CMOS sensor and a DIGIC DV4 processor. The sensor's pixels and readout circuitry use Canon's proprietary technologies to achieve both reduced noise and exceptionally high sensitivity, allowing you to capture subjects illuminated with less than 0.0005 lux. Similar to Canon's Cinema EOS cameras, the ME20F-SH includes Canon Log and Wide DR settings, which enable a wide dynamic range (800%), delivering high-quality results across a variety of ambient lighting conditions, without the need for supplemental lighting.
Connectivity
The ME20F-SH offers several options with regard to connectivity to external third party devices for recording or remote viewing purposes, and is also compatible with Canon's RC-V100 for full remote control over the camera.
Enabling a wide range of imaging possibilities
The new ME20F-SH employs Canon's EF mount with Cinema Lock, as found on the Cinema EOS C500, allowing users to take advantage of the company's extensive lineup of interchangeable lenses. By enabling operators to select the ideal lens based on their shooting or application requirements, taking into consideration such factors as angle of view and level of brightness, the multi-purpose camera facilitates a wide range of shooting possibilities.
ME20F-SH Key features:
Ultra low-light performance at ISO 4million
High quality Full HD 1080p/1080i/720p output
Flexible control with auto and custom settings
Compatible with a wide range of EF lenses
Remote control of camera settings and built-in ND and IR cut filters possible
Small and lightweight for ease of integration