Cleethorpes Theme Park launches ground breaking crowdfunding idea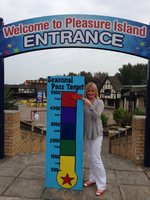 Cleethorpes-based family theme park, Pleasure Island, is taking an innovative approach to future investment within the attraction, by launching its own crowdfunding-style scheme.
The theme park has its eye on three amazing new features for the 2015 season, all of which cost over £100,000. To be able to bring any one of these to the park, it is appealing to anyone who loves a great day out at a theme park and who would really fancy experiencing one of the new features, to get involved, invest and make it happen.
The three different features are: cutting-edge go-karts and a brand new, extended track (£190,000); a 4D cinema (£175,000) and a family water ride (around £800,000). To be able to install any one of these, Pleasure Island needs to get backers from its visitors, local residents, businesses, theme park fanatics nationwide and anyone else who would use what they get in return.
Anyone pledging £38 and buying a 2015 season pass for this price, between September 20 and October 3, will become a project backer and be able to use their pass not just on every visit they make in 2015, but during October 2014 too. October dates on which it could be used are October 4, 11, 18, 25, 26 and 29.
The minimum amount that needs to be raised by October 3, equates to the sale of 4605 passes. If Pleasure Island does not reach its minimum target, all money will be returned in full within a couple of days of the October 3 deadline, so no backer will lose out.
If it does reach its target, Pleasure Island will be able to assess which feature it can install. It will market the new feature heavily and help bring new visitors to Cleethorpes and East Lincolnshire, giving the local economy a boost.
Pleasure Island's Melanie Wood says: "We want to add a new wow factor to the park and believe the general public can help us to do this. The price of the pass is a bargain in itself, but every person buying one will be helping to bring a new feature in, if we reach our target, To do that, we know we need people to spread the word and share the idea on social media. We hope that the media can help us to encourage people to do that.
"A new feature would not just be fantastic for the park, but for the local economy and local employment too. We are appealing to anyone out there who can spare £38, to help make this happen. If we don't reach the target, they will have lost nothing and will be reimbursed, so it just needs people who love theme parks and who wish to support our local area, to care and then share. The idea in itself may be a world first for a theme park, so we need to make it come to fruition and get people talking about Cleethorpes."
From September 20, the £38 pound passes will be available from the park itself. People can also buy over the phone by calling 0844 5040104. Regular updates and sales performance against target will be posted on social media, so everyone can keep re-tweeting and posting comments on their pages, to help raise the total required.