Celebrate the Double Ninth Festival at Royal China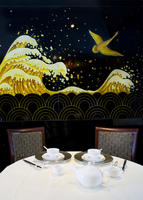 On 2 October 2014 diners at Royal China Restaurants will receive a cup of complimentary Chrysanthemum Tea to help celebrate the Double Ninth Festival. The festival falls on the ninth day of the ninth month in the Chinese Lunar Calendar.
Nine is a Yang number according to Chinese tradition. However, two nines have too much yang and so the date is considered a potentially dangerous one. To protect against danger it is customary to climb a mountain, wear a Zhuyu flower or drink Chrysanthemum Tea.
The Royal China Group consists of six of London's most authentic and prestigious Chinese restaurants, including the luxurious and critically-acclaimed Royal China Club. Based in prime areas of London, the restaurants are centrally located on Baker Street, as well as in Bayswater, Fulham, Harrow-on-the-Hill and Canary Wharf.
The Royal China restaurants offer traditional Hong Kong Chinese dishes, while the Royal China Club provides an exclusive experience combining European ingredients within the authentic Chinese cuisine.
The group is renowned for its Dim Sum, which is served daily from Noon until 5pm and includes favourites such as Steamed Seafood Dumplings with Spicy Sauce; and Pan-fried Fillet of Duck Breast Rolls.