Vintage revival at charity shop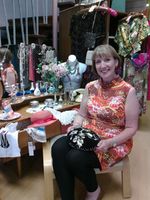 The popularity of vintage fashion has reached an all-time high and Channel 4's latest documentary 'This Old Thing' has encouraged even more people to spread their fashion wings and venture into vintage clothing shops across the UK.
The show, hosted by celebrity fashion designer, presenter and author Dawn O'Porter, takes people addicted to high street shopping and shows them the benefits of trying vintage.
One local Bristol charity shop is one step ahead of the game and has already launched its own Vintage Corner to keep up with the trend and its selection of pre-loved coats, evening dresses and jewellery from the 1920s to the 1980s have proven popular with customers.
Pioneered by Sharon Hulin from Henbury who is a volunteer at the charity shop, the vintage selection can be found at the St Peter's Hospice shop on Canford Lane, Westbury-on-Trym.
Sharon said: "We started selling vintage items in the shop around a couple of months ago and it has gone down a storm with customers looking for individual items that no one else has.
"We have created a little vintage area including a vintage wardrobe and dressing table which looks fab and really stands out from the rest of the store.
"The timing has been perfect as Channel 4 has just aired Dawn O'Porter's new show 'This Old Thing' which has led to a massive revival of vintage clothing and has caused a real stir with our shoppers. People are now realising the benefits of buying vintage, from the affordability of items to the fact that each piece is completely unique.
"I have also been creating my own personalised labels and hangers for the collection which gives it that extra special touch.
"Our prices are fantastic considering the quality of items we have available - for example a vintage coat would cost around £35 while a skirt would start at around £8. The St Peter's Hospice shop in Winterbourne also has a vintage section which is really popular so it's definitely gaining popularity.
"Of course there's also the added bonus that all funds raised go towards supporting the hospice patients and their families."
As Bristol's only adult hospice, St Peter's Hospice cares for more than 2,670 patients each year as well as supporting family members.
All services are provided free of charge but this care costs around £18,000 a day. For around £14,000 of that, the hospice relies on gifts in wills, kind donations and funds generated by the hospice shops.
Sharon, who comes from an artistic family, also designs and makes her own jewellery and wears vintage clothes to the shop when she works. To check out her style and pick up a vintage bargain pop in to the St Peter's Hospice shop in Westbury-on-Trym soon.