Taylor Wimpey acquires land for new homes in Carnon Downs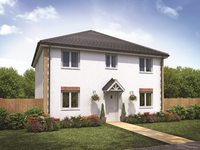 Taylor Wimpey Exeter has taken the first steps towards bringing much-needed new homes and investment to Carnon Downs, near Truro, Cornwall, after acquiring an area of land for residential development.
The leading housebuilder has completed the purchase of the 5.5-acre site, located to the north of Bissoe Road on the western edge of the village, with a view to submitting a full planning application to Cornwall Council later this year.
Although the site already benefits from full planning permission for 42 houses, Taylor Wimpey will be preparing its own designs for the site over the coming months.
Prior to the new planning application being prepared, Taylor Wimpey will conduct a full public consultation to ensure local residents, businesses, community groups and other stakeholders can help to shape the proposals by providing their feedback.
Further details of the consultation will be announced at a later date.
Andrew Tildesley, Land and Planning Director for Taylor Wimpey Exeter, says: "We are delighted to have secured such a prestigious site and look forward to working with the planning authority and the local community as we begin to formulate our plans for the provision of high-quality new homes in Carnon Downs.
"The project will bring many benefits to the village and the wider area, including the creation of much-needed housing – both private and affordable – as well as new employment opportunities and investment in the local community."
Taylor Wimpey's proposed development will comprise a mixture of two, three, four and five-bedroom homes, including a proportion of affordable properties to be agreed with the local authority for local people in housing need.
Access to part of the site will be from Bissoe Road, with the remainder of the development to be accessed from Forth Noweth, a cul-de-sac which borders the land to the north-east.
An existing bridleway which runs through the middle of the site will be preserved as part of the scheme, with the majority of existing mature trees and hedgerow to be retained.
The proposed development will also see Taylor Wimpey make financial contributions towards improving existing local facilities and infrastructure, with payments likely to be made for education, public open space and off-site highways works.
These contributions will be agreed as a condition of planning permission should approval for the new scheme be granted.
Further information about the forthcoming public consultation will be publicised in the near future. In the meantime, details of current Taylor Wimpey developments in Cornwall and across the South West are available by visiting taylorwimpey.co.uk .