Reawaken your senses at an autumn yoga retreat at Daios Cove, Crete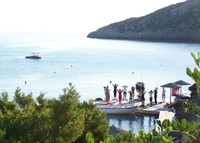 What could be more peaceful than a yoga workshop alongside sparkling, calm blue seas? Daios Cove is offering just that this September, with its yoga workshop promising guests a rejuvenating wellness experience. Admire the view, soak up the atmosphere, and practice the spiritual ritual of yoga in this idyllic setting. The exclusive workshop, available for a limited time only, offers guests the chance to work with professional yoga specialists and gain a rewarding insight into this popular holistic experience.
A carefully designed programme gives guests the best wellness experience possible. From complete beginners to seasoned yogis, Daios Cove caters to the needs of all participants. The yoga package includes the following:
Two 90-minute yoga sessions per day
Two expertly-led workshops lasting an hour each offer a further glimpse into the spiritual world of yoga, and give participants an additional insight
Free access to the wet spa area daily, where guests can reap the benefits of the Finnish sauna, the steam bath, and other relaxing extras
10% off spa treatments – an added bonus on top of a rejuvenating week
*The yoga workshop starts from 399 euros per person and is available the week commencing 29th September for a minimum of 5 nights. Price is for the yoga package only and does not include accommodation or flights.
Daios Cove is the ideal setting for a holistic experience. The resort's location, nestled in a discreet, idyllic cove provides the perfect backdrop for an all-encompassing yoga experience. Overlooking Agios Nikolaos, yogis can perfect their moves in a haven of peace and tranquillity. Shake off the strains and stresses of everyday life and soak up the peaceful island atmosphere.
Daios Cove Spa
Daios Cove's beautiful spa is an added bonus for the ultimate wellness weekend. In between yoga sessions, participants can relax in the beautiful Anne Semonin spa and indulge in a world of luxury treatments. With hydro-massages, various saunas and a relaxing Thai massage studio, the Daios Cove spa offers something for everyone.
Daios Cove Luxury Resort & Villas
Located a stone's throw from Agios Nikolaos, and conveniently situated on the waterfront, all rooms, suites and villas at Daios Cove have sea views from the ancient hilltops. With welcoming, accommodating staff, endless activities and first-rate facilities, Daios Cove is the ideal destination for all manner of guests.
Daios Cove offers guests a Deluxe Sea View Room with 42sqm with individual pool from €229 (£182) per person per night plus €100 resort credit and a free upgrade to Half Board from 30th September. To book visit daioscove.com for more details and reservations.