Visitor numbers up as Western Australia unveils new nature and wildlife offerings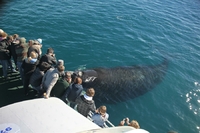 Visitor numbers to Western Australia are up nine per cent year on year, with more than 150,000 people from Britain visiting in 2013. Spend and length of stay are also up. For nature and wildlife lovers considering a visit, a huge range of new and exciting offerings has just been unveiled for 2014-15.
Bremer Canyon Killer Whale Expeditions 2015
Researchers and documentary filmmakers Dave and Jennene Riggs, have discovered a new marine hot spot off Western Australia's South West coast. Enormous numbers of killer whales, sharks, giant squid, sperm whales and masses of sea birds converge on the stunningly beautiful Bremer Bay Canyon, about 60kms off shore every February and March.
On crowd-funded expedition trips earlier this year, researchers spotted in excess of 100 killer whales at the location on any given day, thought to be one of the largest aggregations of orca in the southern hemisphere.
In February 2015, local whale watching operator Naturaliste Charters will be partnering with the Bremer Canyon Killer Whale project to offer visitors the first ever opportunity to participate in expeditions to the area. Numbers will be limited to 25 people and visitors can expect to see a variety of seabirds and dolphins as well as the killer whales. There will also be an opportunity for some expeditioners to join a killer whale spotting aerial flight.
The full day tour will run in February and March 2015 and will cost $350 per person (£193) whales-australia.com.au
Luxury hiking on one of Australia's best walking tracks
Walk into Luxury offers all-inclusive walks of the Margaret River Region's spectacular Cape to Cape Track, coupled with exclusive luxury accommodation and outstanding local food and wine experiences. Voted as one of Australia's top ten tracks by National Geographic, the Cape to Cape Track runs from Cape Naturaliste (near Yallingup) past Margaret River to Cape Leeuwin in the South-West corner of Western Australia. The terrain includes pristine beaches, limestone cliffs and granite boulders, coastal bushland and the majestic Boranup Karri forest. The walk packages range from four to eight days.
Prices start from $1850 per person (£1,030) for a four day itinerary including guided walks, luxury accommodation, a private vineyard visit, massage and gourmet food and wine throughout. walkintoluxury.com.au
Escorted tours in Margaret River and the Kimberley
ADAMS Pinnacle Tours, formerly Pinnacle Tours, is launching new escorted coach tours to help visitors short on time to experience Western Australia's extraordinary regions in comfort. First to be introduced is a new two day Margaret River tour, which is a great way to experience the region's food and adventure highlights for those who don't want to self-drive. In two days the tour takes in the area's famous wineries and craft breweries as well as a guided walk on the stunning coastal Cape to Cape trail. You can also choose to paddle up the Margaret River, take a cultural tour of the region's caves with an aboriginal guide or take a foodie's tour of the local producers.
From 1 April 2015 ADAMS Pinnacle Tours will be running one and two day tours to iconic destinations in the Kimberley including Cape Leveque, Geilke Gorge, Derby, Windjana Gorge and Tunnel Creek. Here a new fleet of luxury 4WDs, seating a maximum of 27 people, will ensure guests enjoy their creature comforts while experiencing the scarce beautiful landscape this region has to offer. Guides will also be providing expert commentary on the region's unique landscapes and pioneering history.
Prices start from $649 per person (£357) for the two day Margaret River tour and from $244 pp (£134) for a Windjana Gorge and Tunnel Creek daytrip in the Kimberley pinnacletours.com.au
New wildflower and bird watching tours
Western Australia boasts the world's biggest collection of wildflowers, with more than 12,000 species to be found across the State from June until November. For this year's season, the Stirling Range Retreat in Australia's South West will start offering daily tours to wildflower hot spots in the region.
The Hidden Treasures Orchid and Wildflower Tours ($49pp) will depart at 9am every day from 15 August to 31 October, while the new Dawn and Dusk Bird Walks ($20pp), will depart every day at 8am and 3pm from 7 September to 25 October - more than 62 bird species can be found around the retreat during this time. Stirling Range Retreat offers self-contained accommodation, caravan and camping facilities beside Stirling Range National Park, which is rich with wildflowers and flora including 87 endemic plants. Cabins at the Stiring Range Retreat start from $135 (£74) stirlingrange.com.au
For more information visit westernaustralia.com