Canary Wharf opens its doors to the public this weekend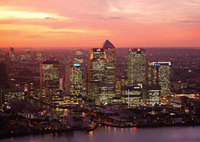 On 20th and 21st September, Canary Wharf Group plc is giving Londoners a glimpse of the past, present and future of one of the world's premier business and shopping districts, as part of Open House London. Public tours of the Canary Wharf Crossrail Station will run across the weekend and tours of the award-winning Public Art Collection will take place on Saturday. The tours of One Canada Square Marketing Suite and Level39 have proven highly sought-after, and with pre-bookings for those now full, Canary Wharf is one of the most popular Open House destinations this year.
Visitors to the Estate will have the chance to preview the Canary Wharf Crossrail site, a structure built in a reclaimed dock which comprises six storeys, making it large enough to accommodate One Canada Square on its side. Through self-guided walks around the site, visitors will get a unique insight into one of the largest retail and leisure expansions currently underway in the UK. The development will include a diverse mix of shops, restaurants and bars, along with a beautiful roof garden which sits above the Crossrail station and had its first tree planted in August this year.
Canary Wharf boasts one of the UK's largest public art collections, including year-round visual art exhibitions by leading artists – all of which are free to view. With a tour from the collection's curator, visitors will be guided around the Estate to explore the diverse array of over 65 works, including stand-alone pieces and integrated artist-architectural works from Ron Arad, Charles Hadcock, Danny Lane, Wendy Ramshaw and many more.
Open House provides a unique opportunity to get under the skin of Canary Wharf, one of London's iconic destinations, with behind the scenes tours of its newest leisure development and a chance to experience the plethora of public art which sits throughout the Estate.
Event Details:
Canary Wharf Crossrail
Saturday 20th September: 9:30am - 5pm
Sunday 21st September: 9:30am - 5pm
Entrance from the North Colonnade opposite One Canada Square, E14 5AB, London.
Entry on a first come basis - last entry 4pm.
Self-guided walk through the site using designated segregated walkways. Tour will include viewing of platform level, ticket hall, retail areas and roof gardens. Sensible clothing - jeans and closed sturdy shoes recommended. Unsuitable for under 5's.
events.londonopenhouse.org/building/18592
Public Art Tour
Meet: Saturday 20th September, 10.30am, 1pm, 3.30pm in Lobby, One Canada Square, E14 5AB, London.
First come basis. Duration 1 1/2 hours.
events.londonopenhouse.org/building/17006