DS 3 stars in Pixie Lott's latest music video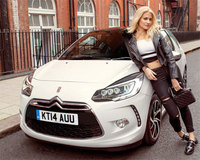 Singer-songwriter, and Strictly Come Dancing star, Pixie Lott, has continued her love affair with DS having opted for DS 3 to appear in her latest music video for her new single 'Break Up Song', which was released on Friday 19 September.
The video sees Pixie appear alongside real-life boyfriend Oliver Cheshire. The ultra-elegant DS 3, used by Pixie and her boyfriend in the film, perfectly complements the storytelling and acts as the mode of transport for the young couple.
DS also captured exclusive behind-the-scenes footage of the multi-award winning singer on set, which can be viewed on Citroen UK's official YouTube channel: www.youtube.com/citroenactive
James Parfett, Communications Director at Citroen UK, commented; "Stylish, fashionable and contemporary, DS 3 and Pixie make a perfect match. It's great to see DS 3 starring in Pixie's latest video and we're delighted to share the exclusive behind-the-scenes footage with our ever-growing social communities. We wish Pixie the very best of luck with her new single."
Having previously starred in Pixie's single 'What Do You Take Me For?', DS 3 now features a new Full Xenon and LED light signature, advanced new technology and high-levels of personalisation.
For more information about the DS line and DS 3 DSport THP 155 – the model that appears in Pixie's latest music video – visit: citroen.co.uk/ds-line
Watch DS 3 in Pixie's new music video 'Break Up Song' here: youtu.be/Ev-5YHDw73M
To watch our exclusive 'Behind the Scenes' video click here: youtu.be/M8DfOcduA9E