Indian Summer Diwali celebration to benefit Curry Tree project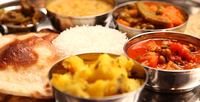 Brighton's award-winning Indian Summer restaurant is to host a Diwali celebration in Brighton on Sunday 2nd November, with a percentage of proceeds being donated to the Curry Tree charitable project.
There will be a sitar player from 7pm, with annual Diwali quiz with prizes, vivid rangoli patterned paintings, beautifully dressed staff and a special Diwali menu alongside the usual Indian Summer a la carte offerings. The Diwali menu comprises a trio of traditional street snacks as starters with a Royal Indian Summer Thali main course followed by a Trio of Desserts showcasing Indian sweetmeats and ice cream.
The 3-course menu costs £25.95, of which £2 will be donated to Curry Tree, which raises funds to help alleviate the plight of the malnourished, starving and poor of South East Asia and the world.
Diwali, often referred to as 'The Festival of Lights', is a five-day Hindu festival, which occurs on the fifteenth day of Kartika – the lunar month in the Hindu calendar which begins with the new moon in November.
During Diwali, houses are thoroughly cleaned and windows are opened to welcome Laksmi, Goddess of wealth, in to people's homes. The festival is probably the largest South Asian festival on the calendar and represents to Hindus roughly to what Christmas and New Year does to Christians.
The annual festivities have become something of an institution at the Brighton restaurant and the evening usually sells out well in advance.
Whereas food in Christian churches is largely confined to mince pies and a glass of sherry at Christmas or hot cross bun or seminal cake at Easter, year round communal dining in temples is central to Hindus. Some temples sell food farmed on their own land, whilst others provide free meals cooked by volunteers. Hindu practices vary widely within its three main sects - Vishnavs, Shivaites, and Shaktas. Temples in Nepal even serve pork.
Blessed foods, usually dried fruits, nuts and sweet (including Jaggery (sweet rock) are eaten according to specific Hindu sects' religious customs and practices.
In North India most Vaishnav sects prefer nuts, dried fruits, Laddoos (sweet snacks) and Payasam (sweeten rice). Temples dedicated for Lord Shiva in Eastern India, typically have Ganja or Bhang (cannabis) laced dishes, whereas temples dedicated to goddess Shakti (Kali or Durga) may prepare the meat from sacrificial goat and buffalo.
Indian Summer is one of four restaurants chosen to represent Brighton in this year's Curry Capital of Britain Awards alongside Chilli Pickle, Bombay and Ashoka.
Curry lovers can vote for their favourite city by email to votecity[at]fedrest.com.

Polling closes 26th September. The winner will be announced following National Curry Week on 20th October. nationalcurryweek.co.uk
More information at indian-summer.org.uk