New Eden Project Youth Hostel to open on October 24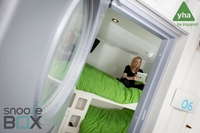 A new Youth Hostel made from shipping containers is set to open at the Eden Project on October 24.
The hostel is a partnership between Eden, the Youth Hostel Association and Snoozebox and was granted planning permission in July.
The 58-room hostel can accommodate more than 220 guests and is a direct replacement for the YHA's Youth Hostel at Golant, near Fowey, which closed earlier this year.
The new hostel, on the former site of Eden's Strawberry car park, offers views over St. Austell Bay and is a short walk or bus ride to Eden's main entrance. It is being built by Snoozebox, the leading provider of portable hotel accommodation and services.
The comfortable rooms are all en suite and equipped with all the usual YHA conveniences.
Prices start at £39 per night for a private room or £12 per night for a bed and can be booked by visiting www.edenproject.com. Guests can add discounted tickets to the Eden Project to their order when booking their accommodation.
The Youth Hostel is a further development of the relationship between Eden and the YHA, which saw camping facilities being made available at the Bodelva site for the first time this summer
Dave Harland, Eden executive director, said: "This is an exciting development for Eden and we're very pleased to be working with the YHA and Snoozebox to further expand the options for people who would like to stay here and make Eden their base for exploring this fantastic part of Cornwall.
"This is a Youth Hostel with an Eden twist and must rank as one of the most novel places to stay in the country. The quirky, innovative rooms – housed in shipping containers – are incredibly comfortable and will be a real talking point for anyone spending time in them."
Caroline White, YHA Chief Executive, said: "We are so excited that YHA will be providing accommodation at the Eden Project. It will broaden access to this wonderful place and what YHA offers to thousands of people each year. Our work with the Eden Project and Snoozebox is so innovative and we can't wait to get started."
The YHA core business will be made up of school groups taking part in educational experiences developed and delivered in partnership by the association and the Eden Project. The Youth Hostel would also be used by a large number of families during traditional school holidays and at weekends.
At Golant last year the YHA had 11,500 overnight stays or 5,750 people, the majority being school children visiting Eden. With the closure of Golant YHA, the Eden Project was an obvious location for a replacement hostel.
A code of conduct will be provided to all guests on arrival to advise them of the nature of the location and to cover aspects of behaviour such as limiting noise at night. This would reduce any disturbance to other residents within the hostel and would promote responsible behaviour on leaving or returning.
The YHA currently operates 138 Youth Hostels in both urban and rural locations. Last year, more than 400,000 under 26-year-olds stayed with them. The YHA has a strong track record of good relations with neighbours, police and local authorities. They are proud of this aspect of their work and expect this to extend to the proposed Eden Youth Hostel.