Why Scotland's Watersports Coast is the perfect place for athletes and golfers to relax and unwind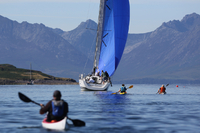 As Scotland's summer of sport comes to an end and the Ryder Cup fast approaches, Ayrshire & Arran's Watersportscoast.com is inviting some of the world's biggest golfers and sport stars to unwind and prepare for their next big events in one of Scotland's premier watersports destinations.
Partnering with experts from sportScotland's National Centre on Cumbrae, the new interactive website is revealing why watersports in the area is perfect for both professional sportspeople and spectators.
Explaining David Frame, Chief Instructor at the sportScotland National Centre said: "We know that watersports are some of the healthiest sports you can engage in – great for mind, body and spirit, and a fantastic way to unwind from the intense pressure and adrenalin rushes caused by major sporting events.
"In addition to this with the warmer waters provided by the Gulf Stream, more daylight hours than south of the Border in the summer months, fresh sea air and outstanding natural beauty of the area, Ayrshire and Arran provides the perfect place to do this. And it's only a short drive from Glasgow and Gleneagles to the watersports coast."
The top ten reasons that watersports in Ayrshire & Arran is great for athletes to unwind are:
1. Mental health
Evidence shows that taking part in watersports can hugely decrease anxiety and make people happy. The energies used in the likes of wild swimming, kayacking or windsurfing can release certain chemicals in your brain that are responsible for regulating your mood. All of these activities can be found on Watersportscoast.com
2. Concentration
Using your muscles to power kayaks, yachts or rafts, and your mind to figure out different paths you should take can give your brain a healthy work out and help to improve your concentration. Watersportscoast.com provides information about over 60 key coastal access points, beaches, slipways, marina facilities, and mooring where these activities can take place.
3. Improve Fitness Levels
If you're looking to raise your heart rate and burn some calories then watersports such as wild swimming, dinghy sailing and kayaking are ideal activities and coastal rowing provides an excellent alternative to working up a sweat on a rowing machine. The SportScotland National Centre for Watersports on Cumbrae, which features on Watersportscoast.com, provides training and also taster days.
4. Building and toning muscles
Watersports can also be a great way to build and tone muscles. To work a range of different muscles, it is best to try a variety of different watersports. Watersportscoast.com features 12 different watersports that you can do in Ayrshire & Arran.
5. Daylight hours
As Scotland is closer to the North Pole, Ayrshire & Arran offers more daylight hours than towns and countries further south. More exposure to daylight is often said to make people feel happier, and the area has been blessed with many days of sunny weather this year.
6. Gulf stream
Ayrshire & Arran is located on the Gulf Stream, so the waters are surprisingly warm. It is because of this that visitors will also see a number of palm trees on the coast – specifically New Zealand Palm trees, so particularly great for homesick Kiwis visiting the country.
7. Natural beauty
Ayrshire & Arran is renowned for its natural beauty from scenery to flora and fauna. The Isle of Arran itself is known as Scotland in Miniature. A break surrounded by this stunning scenery and listening to the rolling waves of the sea is great for the soul.
8. Fresh air
Visitors from some of the world's biggest cities often remark about the relaxing impact that Scotland's fresh air has on them. Sea air is charged with healthy negative ions that accelerate a person's ability to absorb oxygen. Negative ions also balance levels of seratonin, a body chemical linked with mood and stress. This is why after a holiday in Ayrshire & Arran you will feel more alert, relaxed and energised.
9. Ease of access
From the coastal areas around mainland Ayrshire, to the islands of Arran and Cumbrae, the area provides fantastic opportunities to access the popular waters of the Firth of Clyde and on to the Irish Sea. In addition to this, the Ayrshire coast is less than an hour's drive from Glasgow and around an hour and a half from Gleneagles.
10. Ease of planning
Watersportscoast.com provides Tide times, weather forecasts, nautical charts, nautical mile plotting, and truly interactive mapping, making it easier for visitors to plan new experiences both on and off shore. It also contains information about accommodation and other things to see and do in the area.