Divine Chocolate Week 2014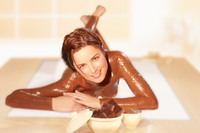 Divine Chocolate's highly-anticipated Chocolate Week is held from 13–19 October 2014.
K West Hotel & Spa (k-west.co.uk)
K Spa at K West Hotel & Spa has developed a Divine Day Package. Priced at £85 for the day, the package includes a 55-minute Dark Chocolate & Sea Salt Body Scrub and Dark Chocolate & Honey Balm Massage, a bar of Divine Chocolate and a Divine Chocolate & Chilli Martini Cocktail in K Lounge.
Lancaster London (lancasterlondon.com)
Lancaster London is offering an indulgent chocolate menu for diners, featuring Divine Chocolate Pots, a Divine Chocolate Plate, as well as a Divine Chocolate Afternoon Tea.
The desserts will be available in Island Grill, which has been awarded a top Three Star rating from the Sustainable Restaurant Association, while the Chocolate Afternoon Tea will be served in the hotel's first floor Lounge Bar.
Foxcroft & Ginger (foxcroftandginger.co.uk)
Foxcroft & Ginger has created an exciting combination of Divine Chocolate & Fresh Beetroot Cake Pops at only £2.50 each.
Guests should not be scared-off by the beetroot, as this ingredient keeps the sponge extremely moist whilst adding texture. As beetroot is also low in fat and full of vitamins, minerals and powerful antioxidants, these cake pops are a darn sight healthier than your average sugary treat.
Mini bars of Divine Chocolate will also be distributed in hotels and restaurants across London, including The Arch London and Royal China Group restaurants.