Mexico's Pacific Coast - The ultimate winter sun destination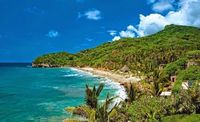 With year round sunshine, luxury hotels and thrilling activities Puerto Vallarta and Riviera Nayarit are the perfect destinations to escape from the gloomy British weather this winter.
Most people think that summer is the best time to embark on an annual getaway, but in fact winter is the ideal time to get the most out of a visit to Mexico. Boasting hundreds of miles of golden sandy beaches and an enviable cultural heritage, these two stunning regions on Mexico's West Coast can be enjoyed out of the peak holiday season for many reasons.
Activities
There is no shortage of things to do in Puerto Vallarta and Riviera Nayarit, with activities to suit all.
Sport lovers can experience an exhilarating adrenaline rush by zip lining through the lush greenery of the Mexican jungle, taking in the unforgettable view, or have a round of golf on one of the area's championship courses. Water sports are also very popular, as the sea retains its warmth during the winter, making it ideal for swimming, snorkelling, sailing and scuba diving. Trendy new activities like Flyboard are also on offer through Punta Mita Adventures at the Four Seasons Hotel, Riviera Nayarit. Pioneering technology allows you to experience the once-in-a-lifetime feeling of flying into the sky, or soaring through the water by jet.
If relaxation is what you are after, the areas are famed for their world class spas, with a range of pampering treatments to indulge the senses.
Festivals
This season is also a perfect time to embrace the vibrant street scene and soak up the electric atmosphere at one of the many fiestas.
Celebrate Puerto Vallarta's 'birthday' during the Festival of the Virgin of Guadalupe, which sees the town come to life in religious celebrations, in particular at the cathedral downtown that bears the name of the patron saint.
For keen surfers and lovers of Mexican food and drink, music and film, the second annual Sayulita Festival (January 14th-18th) is a top attraction.
Food enthusiasts from all over the world come to the Pacific Coast of Mexico, from the 13th-23rd November to take part in the International Gourmet Festival, located in Puerto Vallarta, Riviera Nayarit and Tepic. Visitors can get involved in cookery classes and wine tasting, as well as attending the grand, concluding polo tournament, hosted in Riviera Nayarit.
Those with an appreciation of 60's, 70's and 80's music are also in for a treat at the Vallarta-Nayarit Classic Rock Festival. The event is the first of its kind, with big name acts in the industry rocking the sound waves all weekend long (December 11th-14th) at the Hard Rock Hotel in Riviera Nayarit.
Wildlife
Animal life thrives in the winter season, both on land and in the water. Whale watching season starts in December and these majestic creatures can be seen diving gracefully out of the water on tours that run around the iconic Banderas Bay. Visitors can also experience a memorable journey by taking part in one of the area's Sea Turtle release programmes, as the last Olive Ridley turtles are released back into the sea in December. Over 315 different species of rare birds also reside in the regions, making them prime locations for bird watching enthusiasts.
Where to stay
There is no shortage of luxurious hotels, providing accommodation that charms all year round.
In Riviera Nayarit you can lounge in award-winning, 5 star luxury at the Four Seasons Resort Punta Mita (fourseasons.com/puntamita), in one of its majestic suites popular with A-list celebrities and top travel publications including Conde Nast Traveler and Travel + Leisure. Or enjoy the all-inclusive experience of the famous 4-star, Hard Rock Hotel Vallarta (hrhvallarta.com/), situated on the shores of Nuevo Vallarta, which is renowned for its water and land based sports as well as attention-to-detail service (winners of Tripadvisor's 2014 Certificate of Excellence).
In Puerto Vallarta you can relax in sophisticated style at Garza Blanca Resort & Spa (garzablancaresort.com/), or choose Casa Velas Resort (hotelcasavelas.com/) for a boutique romantic getaway with friendly staff that cater to your every need.
Weather
Mexico's West Coast has a consistently semi-tropical climate, with an average temperature of 24 degrees in the winter months. With the promise of such glorious weather it's hard to think of reasons why you shouldn't spend a winter break in Puerto Vallarta or Riviera Nayarit.