Peugeot 108 has a chart-topping start to life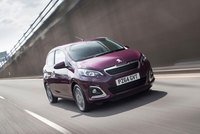 The Peugeot 108 has had a chart-topping start to life. Just three months after order books opened in the UK, sales of the new city car are already exceeding expectations. It also has the unique distinction of being the most popular television advert in the UK ever with users of the mobile music identification app 'Shazam'.
Since it went on sale in July 2014, over 5,000 orders have been placed for the New 108. Of those 50% have been five-door hatchback, 24% the three-door hatchback and an impressive 26% have been orders for the Cabrio 'TOP!' model.
Peugeot continues to appeal to an increasingly younger audience thanks to the Brand's innovative 'Just Add Fuel' leasing option. 108 buyers are, on average, seven years younger than those of the previous 107 model.
A proportion of these buyers were undoubtedly introduced to the car by mobile music app Shazam. The commercial aired, for example, during advertising breaks in the X Factor on Saturdays and Sundays. Viewers had the choice to link to a web page that let them either build their own 108 or download a free track. On some evenings, 39% chose to explore the 108 – more than twice the number that downloaded the song.
In total Shazam recorded 150,000 tracks tagged as a result of the Peugeot 108 commercial. This doesn't just make it the most Shazamed automotive TV advertisment ever. It makes it the most Shazamed TV advertisement ever!
Peugeot
The Peugeot Brand can trace its roots back to 1810, and it was in 1889 that it began producing automobiles, thus in 2014 it celebrates 125 years of vehicle production with over 60 million sold. Conveyed through its Brand signature 'Motion & Emotion', Peugeot is present in 160 countries with some 10,000 Franchised Dealers and recognised for its Excellence, Allure and Emotion.
In 2013 Peugeot sold 1.5m vehicles worldwide, represented in the majority of markets around the world with a strategy to continuously move the Brand up-market.
The UK is currently the 3rd largest market for Peugeot. Recent models in the eight-car line-up that include the expanding 208 range with the emblematic performance GTi and luxurious XY versions, supplemented by the new 2008 Urban Crossover and the new class-leading 308 – 2014 European Car of the Year, now available in Hatchback and SW estate body styles. The new 108 joins the range completing the '8' numbered range with two body styles - Hatchback and 108 Top! Cabrio and introduces new levels of style, technology, efficiency and personalisation to the compact car sector. The new 508 ensures that the Peugeot range is now easily the most modern of any brand, while being the most established and experienced.