Monks, tribes & rhinos of North East India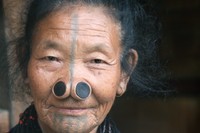 Travel The Unknown has a highly unusual three-week trip to a little-known corner of North East India, which provides an opportunity to encounter the ancient Apatani tribes and Buddhist cultures of Arunachal Pradesh, witness wildlife in Assam's national parks and explore Majuli, one of the world's largest river islands.
No trip to India is complete without a visit to a tea plantation and Assam is home to some of the most famous estates in the country, nestled in the foothills of the Eastern Himalayas.
The itinerary also includes plenty of wildlife encounters with visits to both Nameri National Park and Kaziranga National Park. Kaziranga in Assam is home to two-thirds of the world's population of one-horned rhinoceros (just under 2000) which, up until a few centuries ago roamed across the north Indian plains in the wetlands of the rivers Indus, Ganges, and Brahmaputra.
Whilst in the park, enjoy an elephant-back safari – the best way in which to get close to the rhinos – and spot other wildlife such as Royal Bengal Tigers, elephants, sloth bears, Gangetic Dolphins and the extraordinary bird population.
One of the main highlights of the itinerary is the chance to visit Ziro, in the state of Arunachal Pradesh. More mountainous than the plains of Assam, it is packed with tribal villages, rice fields and bamboo groves.
This is where the Apatani tribe live and their women – historically considered the most beautiful in the region – used facial tattoos or nose plugs to deter kidnap by the Nishi tribesmen – up until the 1960s, when the practice became outlawed. This explains why only women over 50 still bear these signs of facial graffiti.
Other highlights of the itinerary include:
Tawang Monastery, the largest Buddhist monastery outside Tibet which is perched on a Himalayan cliff face looking into Bhutan
Exploring Majuli Island by bike and visiting the holy satras
Nameri National Park – walking safari and astonishing birdlife
The Orchid Centre at Tipi which houses over 7500 species
The itinerary ends in Guwahati with optional excursions including a visit to the Kamakhya Temple, where animal sacrifices are still a regular occurrence.
The holiday – which departs on 10 December 2014 and 1 March 2015 – costs from £2995 pp (two sharing) – a reduction of £400 (10 December departure only) – which includes international and domestic flights, 20 nights' accommodation, most meals, transportation, permits, entrance fees, activities, driver and escorted guides.
For further information, visit traveltheunknown.com.