Portugal's Algarve - The best place in the world to retire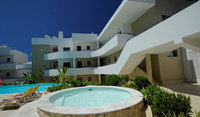 It's official – Portugal is the best place in the world to spend your golden years. The 2014 Retire Overseas Index, from Live and Invest Overseas, listed the country's southern Algarve region as the global destination of choice for retirees.
The report's publisher, Kathleen Peddicord, comments, "Portugal's Algarve is the best place in the world to retire in 2014. This Atlantic coastal region is already home to more than 100,000 resident expat retirees and offers the best of the Old World, from medieval towns and fishing villages to open-air markets and local wine, plus some of Europe's best beaches."
For retirees, Portugal has the whole package – a fabulous climate (with a reported 300 days of sunshine per year), a low cost of living and some excellent healthcare facilities. Bargain property prices add to the country's charms, as Chris White, Founding Director of boutique real estate agency Ideal Homes Portugal, explains,
"Portugal's economic crisis saw property prices drop across the country, but now that the bailout is a thing of the past, the market has bottomed out and prices have begun to rise again. This makes it the ideal time to pick up a bargain property, whether as a second home or as a primary residence to which to retire."
In addition to lowered prices, bank repossessions have meant that there are some fabulous deals available currently for those who know where to look. In Paderne in the Central Algarve, a three bedroom, three bathroom villa with private garden on closed condominium with communal adult and children's pools can be picked up for as little as €260,000. Over in Alvor, an ultra-modern villa with eight bedrooms, eight bathrooms and four reception rooms can be purchased for just €480,000.
Both buyer demand and transactions are on the up in Portugal – evidence that the market has turned the corner. July's Portuguese Housing Market Survey showed new buyer enquiries increasing at their fastest pace for five months and represented the 11th month of positive demand growth. It also showed that agreed sales have risen for six months in a row.
Of the three key Portuguese markets that the survey covers (Lisbon, Porto and the Algarve), the Algarve has demonstrated the best performance over recent months. July was the fourth consecutive month to show either a price rise or no change.
It certainly seems that all signs are pointing to now being the time to pick up that retirement property in the sunshine. Even for those for whom their golden years are still some way off, a property that can be used as a holiday home in the near future and then a permanent residence later in life is likely to make an excellent investment choice.
This was precisely the approach taken by Moira and Colin Hutchinson from Lancashire, who purchased an apartment in the eastern Algarve through Ideal Homes Portugal, to use initially as a holiday home and later as a property to which to retire. Moira was delighted with the Algarve and with the service she received from Ideal Homes Portugal, commenting,
"Ideal Homes took us to view a number of properties that met with our original spec, and to others that we might be interested in. The property we finally decided on was above our original budget, but we have no regrets about opting for it in the end. The development was just what we had in mind – perfect. Very high quality of finish."
Those interested in achieving their dream of retiring to the Algarvian sunshine, or simply picking up a bargain holiday home in which to build treasured family memories are invited to meet with the Ideal Homes Portugal team at the Overseas Property Show as it tours the UK. Free tickets are available from theoverseaspropertyshow.com. The next show will be in Glasgow on 26-29 September, followed by Manchester on 10-13 October.
For further details of properties currently available in Portugal, visit idealhomesportugal.com.