HippopoThames moves to St Katharine Docks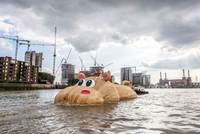 Totally Thames, the Nine Elms Vauxhall Partnership, Wanda One (UK) and Vauxhall One have announced that, by popular demand, London's newest and favourite resident, HippopoThames, has chosen to leave Nine Elms on the South Bank to visit friends at St Katharine Docks where he will remain for a further 28 days.
Launching the inaugural Totally Thames season of river events, HippopoThames arrived at Nine Elms on the South Bank at the beginning of September, taking in a host of iconic London landmarks en route including the London Eye, Tower Bridge and Houses of Parliament. , For the past 28 days, he has basked in the shadow of one of London's favourite landmarks Battersea Power Station, in full view of the changing skyline within central London's newest district.
During his month-long stay at Nine Elms on the South Bank, HippopoThames has captured the hearts of local residents and attracted visitors from around the world. Guided foreshore access has enabled passers-by to get up close and personal; HippopoThames has also received the ultimate accolade – a spoof Twitter account in his honour.
The first UK commission of renowned Dutch artist Florentijn Hofman, HippopoThames was commissioned by Thames Festival Trust with support from the Mayor of London, the Nine Elms Vauxhall Partnership, Wanda One (UK) and Vauxhall One. The installation is semi-immersed in the river and rises and falls with the tide. Hofman is known for scaled-up sculptures, such as Rubber Duck which has been travelling to several major cities including Auckland, Sao Paulo and Hong Kong, since 2007. Hofman's sculptures often originate from everyday objects, but the design of Hofman's first UK commission has been inspired by the fascinating prehistory of the River Thames, and the hippos that used to inhabit it.
HippopoThames other Totally Thames activities in the area have included a theatrical walking tour with White Rabbit, a month-long exhibition at nearby Pump House Gallery in Battersea Park and a Natural History Museum talk at The Doodle Bar, which explored the pre-history of the Thames that in part inspired Hofman's sculpture.
Adrian Evans, Totally Thames Director, said: "Our aim for September was for the River Thames, the capital's greatest natural asset, to be a source of constant inspiration and delight. Through the commission of amazing projects and working with partners in all of London's 17 riverfront boroughs, the 2014 Totally Thames has seen the biggest and most exciting season of river events in the world. It is truly heart-warming to see HippopoThames extend this season for one more month."
Helen Fisher, Programme Director at Nine Elms on the South Bank, said: "We have been delighted by the worldwide appeal of HippopoThames, and could not be happier that he will remain in London for 28 more days. We are proud to be sharing this great gift with St Katharine Docks and all Londoners."