Chocolate makes the world go round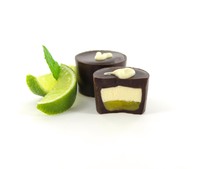 National Chocolate Week runs from 13th to 19th October and to celebrate, Lily o'Brien's offers the following guide to international chocolate tastes.
It's fair to say that, as one of the oldest and most enduring guilty pleasures, chocolate is loved and devoured by men, women and children the world over. But research shows that our tastes and chocolate preferences vary greatly from country to country.
Lily O'Brien's, Ireland's favourite premium chocolatier, exports its chocolates internationally. Its experience offers some fascinating insights into how different countries prefer their chocolate and the results may surprise you!
The Irish, British and Australians generally prefer their chocolate milky, with the UK eating more milk chocolate than any other country in the world .
Stateside, the Americans prefer the dark variety and rarely entertain the notion of milk chocolate. US consumers also tend to be more adventurous with their flavour combinations and prefer richer flavours for maximum indulgence . For instance, Lily O'Brien's has created a bespoke Spiced Pumpkin chocolate especially for the US market which would be far too rich for the palates of most European consumers.
Commonly known as the world's most prolific purveyors of chocolate, the Swiss and Belgians are most partial to pralines.
One thing that is common to all, and has been one of the industry's consistently increasing trends, is the move towards healthier chocolate options. In response, Lily O'Brien's is currently experimenting with dark chocolate, higher cocoa concentrations, and combinations of fruit, nuts and seeds which are predicted to be big business next year.
So who eats the most?
The Swiss are number one, at a whopping 12kg per person per year. However, they are closely followed by Lily O'Brien's native Ireland coming in second. It's no wonder then that Ireland has established a strong presence in the handcrafted chocolate market with Lily O'Brien's at the forefront .
In third place is the UK, with the average British consumer eating 10.5 kg of chocolate every year, although UK consumers tend to adopt the "little and often" approach, with the bite-size market growing by a massive 40% in the last 5 years. The Brits are also some of the most generous consumers, as sharing in the UK is the fastest growing trend in the market .
However, this could all be about to change as the biggest growth areas for chocolate are now Brazil, Columbia, India, Russia, South Africa, Turkey, Vietnam and China, where chocolate is often used as a gift rather than self-treating. A third of all chocolate sold in China is given as a present to someone else.
Similarly, in Japan it is customary for women to give chocolate to men as a gift on Valentine's Day. The chocolates are used as an expression of their love, instead of the traditional greeting cards. This is such a popular custom that more than 50% of all chocolate sales in Japan now fall during the week before Valentine's Day. In response, the Japanese then launched a day for the men to buy for the women and this has almost doubled the sales of their Valentines market.
Founder of Lily o'Brien's, Mary Ann O'Brien, said: "We work tirelessly researching the different trends appearing in the various global markets in which we operate and analysing data so we can ensure we are tailoring our product offering according to the tastes of different markets, ensuring we are giving domestic and international consumers what they want.
"While we source the majority of our raw materials locally in Ireland, it is the combination of ingredients that creates the different flavours. So, while we may use the same unique caramel we make on site for all audiences, the recipe combinations we use them in will vary from country to country. Consumer tastes are becoming increasingly sophisticated the world over and every day at Lily O'Brien's we are working on new recipes to meet their shifting requirements."
Angus Kennedy, Editor of Kennedy's Confection magazine, commented on the findings: "We do a lot of analysis, comparing sales data to make sure we are up to date with the latest trends and tastes around the world. At the moment it is interesting to see the general shift towards a more seasonal gift-led chocolate market, as well as the evolution of chocolate as an experience or 'moment in time' with the increase in the number of chocolate themed environments such as hotels and museums.
"The market is changing quickly and subsequently it's an exciting time to be a chocolatier. It's great to see confectioners like Lily O'Brien's pushing the boundaries in terms of recipe creation and chocolate innovation."
To celebrate National Chocolate Week, Lily o'Brien's has launched a new range especially for the UK. Recognising the growth in sharing occasions it has responded with a delicious selection of re-sealable chocolate pouches in three distinctive flavours; Stem Ginger Batons, Creamy Caramels with Sea Salt; and Cocoa Cookie Crunch. At just £2.50 for 120g, these pouches are perfect for sharing.
Lily O'Brien's range of chocolates is now available in major supermarkets in the UK, including Waitrose, Sainsbury's, Asda and Morrisons.
For more information, visit lilyobriens.ie
1. Kennedy's Confection magazine
2. Kennedy's Confection magazine
3. Confectionerynews.com
4. Kennedy's Confection magazine
5. Shanghaijungle.com and Kennedy's Confection