Grab a bite of free culture in Dartmouth this October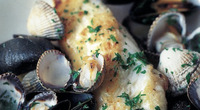 This October, Dartmouth Food Festival (24th - 26th October) coincides with the South Hams Arts Trail (18th - 26th October), so visitors and residents can truly explore the local area's art and foodie culture with programmes guaranteed to educate and excite. Above all, both events are free to enter, so you can get creative and feed your imagination by immersing yourself in the wonderful world of art, food and drink.
Whilst the South Hams Arts Trail offers the chance to discover new places and explore South Devon's coastline and natural landscapes through the eyes of a talented suite of local artists, the jam-packed Dartmouth Food Festival programme includes hands-on workshops, cookery demonstrations, topical Eat Your Words sessions and enlightening wine seminars.
As well as the opportunity to sample, buy and talk to passionate artisan producers, the festival attracts some of the region's top chefs. Gather some top tips and watch free cookery demonstrations from chefs such as Mitch Tonks and Nathan Outlaw, or dip into the Eat Your Words series of talks and discussions and engage with fascinating speakers such as Henry Dimbleby and Orlando Murrin. Wine expert Susy Atkins is joined by Fiona Beckett and master of wine Liam Steevenson, amongst others for a series of relaxed, informative wine tastings.
Commenting on this year's Dartmouth Food Festival, which is in its twelfth year, festival director David Jones says: "Whether you are a family enjoying the atmosphere, a budding cook looking to learn new skills or a student of gastronomy wanting to hear cutting edge speakers, we have it here. The many facets of the festival will link together to create an inspirational three day event."
And when you fancy escaping the hustle and bustle of Dartmouth for a short while, find solace in one of the many stylish art galleries and studios open to the public as part of the 4th annual South Hams Arts Trail. At White Sails Gallery on George's Square in Dartmouth, Inka Gabriel is showing a selection of her contemporary lights. Her trademark lamps feature clear simple lines, and include natural materials such as shells, pebbles, slate and crystal set in glass on wooden bases. No light is ever the same.
51 of the most exciting home studios, workshops, galleries and exhibition halls across the South Hams show artworks inspired by the glorious South Devon coastline, from Wembury to Dartmouth as part of Arts Trail organised by the South Hams Arts Forum.
South Hams Arts Forum's Elisabeth Cooper is excited about organising the forthcoming Arts Trail: "So many of the artists are inspired by the beautiful coastline and countryside and this can be seen in their paintings, ceramics, photography, textiles, even jewellery." Elisabeth explains that, "they are always happy to discuss the processes involved and when you meet them you might be inspired to commission a special piece."
Just outside Dartmouth, Sue Farrow-Jones shows her prints, watercolours and screen-printed fabrics at Running Dog Studio at Well Park Barns near East Allington. Experience the Devon coastline from Sue's perspective, as birdlife and the natural world inspire her to recreate local landscapes. Another two artists show their very contrasting work at Hillcrest Studios in Goveton, just a few miles away. Sally Wilkinson is a lettering artist influenced by the shape and feel of words and the varying textures of paper, whilst Maggie Smith's prints represent her love of the sea and surrounding countryside. Continue on the trail across the South Hams to discover many more original artworks in unusual venues and meet the artists face-to-face in their studios. Delve into the Arts Trail 2014 programme and explore the South Devon coastline through the eyes of local artists and see the landscapes from their perspective.
Beautifully positioned on the River Dart estuary, the maritime town of Dartmouth is a stunning place to visit this autumn. Explore the cobbled market place and ancient narrow lanes to discover independent boutiques, art galleries, restaurants and delicatessens. The opportunities are endless and there's something to suit every taste whether you're an art fanatic or an adventurous foodie.
For programmes and more details about both festivals visit shaf.org.uk and dartmouthfoodfestival.com