Tesla financing built from the ground up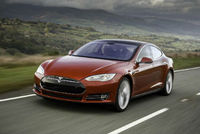 Tesla has announced a Model S financing programme for our private customers in the United Kingdom. As with everything Tesla does, the programme has been created from the ground up rather than duplicating existing products in the industry.
Financing through Tesla's partner, Alphera Financial Services now comes with a guarantee that the Model S resale value will be among the highest of any premium saloon that is made in volume. Tesla is standing behind that Resale Value Guarantee to give customers absolute peace of mind about the value of the car they are purchasing. Tesla promises to buy Model S back from private customers during the 37th month of the hire purchase term for 50 percent of the base purchase price of the 60 kWh Model S plus 43 percent of all options, including the upgrade to the 85 kWh battery pack.
Tesla's financing programme is focused on customers, which means we have created financing that is simple and transparent, with no gimmicks or negotiations. The programme offers attractive rates with customers having the option, but not the obligation, to sell the car back to Tesla at a predetermined price during the 37th month of the hire purchase.
"We understand that many customers enjoy the simplicity of a Hire Purchase but also may seek some assurance of the future value of Model S," said Georg Ell, Tesla's UK Country Director. "We want to do the right thing for customers, so we're delighted to be able to offer this transparent and fair financing programme."
Tesla customers financing through Alphera Financial Services pay a 15 percent down payment and an APR of 5.9 percent for the first 36 months and up to 72 months. This brings payments as low as £820 per month, which after savings means the effective monthly cost could be as low as £645. After 36 months, the customer can choose to sell the car back to Tesla at the pre-determined price and pay off the HP contract, or keep driving their Model S and continue financing it with the same monthly payment.
Model S drivers can expect to save about £156 a month on petrol and enjoy additional savings of exemptions from road tax (£19 a month) and London's congestion charge (£210 a month if commuting daily), and Benefit in Kind savings when using Model S as a company car (£331).
With the new programme provided by Tesla and Alphera Financial Services, customers can further enjoy the lower cost of ownership of a Model S compared to the fuel costs of a petrol or diesel engine car. When choosing the 85 KWh version, fuel saving will add up even more as customers are able to use the Supercharger network in Europe for free.