Halloween Ball returns to Cadbury House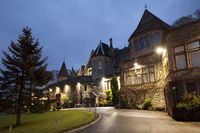 A thrilling night of dinner and entertainment is planned for North Somerset's very own spooky house on the hill, as the region's premier hotel welcomes back its annual Halloween Ball.
The popular Ghoulish Gala is taking place on Friday 31 October at DoubleTree by Hilton, Cadbury House in Congresbury where guests will enjoy a selection of creepy nibbles followed by a three-course Halloween-themed meal with coffee and Petit Fours.
Guests, who are invited to wear fancy dress to the event, can dance the night away at the four-star boutique hotel with a disco until 1am.
With views across the North Somerset countryside and a hotel made up of old and contemporary styling, DoubleTree by Hilton, Cadbury House has become a favourite for local party goers.
Colin Badcock, general manager at DoubleTree by Hilton, Cadbury House said: "Our famous Halloween Ball is always a fantastic night. The gothic feel of the old part of the hotel really lends itself to the occasion and we really go all out to make sure people have a spooktacular evening!
"This year guests will be able to enjoy the event in our brand new Great Room. This will be one of the very first events we've held here since the space has undergone its major refurbishment and we're looking forward to showing it off.
"We've removed the stage to make room for more partying and the bar areas have had a complete overhaul. With all new furniture, curtains, carpets, flooring and a fresh lick of paint, it's looking really fantastic.
"As always our chefs have created a special menu for the evening and the food is set to be spectacular. For starters we've got a devil's breath broth with witch's eyeballs (curried pumpkin soup with mini onion bhaji), mains is 'silence of the lambs' (braised shoulder of lamb) with a vegetarian option also available and dessert is gore and guts pie (treacle tart with clotted cream ice cream).
"Our resident DJ will be on hand to get everyone on their feet later in the evening and anyone wishing to make a weekend of it can book a room with us and enjoy our onsite spa facilities as well.
"Please be aware that there are rumours of a house ghost in the old part of the hotel, but don't worry he's friendly enough!"
Tickets to the Halloween Ghoulish Gala are £25pp. For further information or to book, visit cadburyhotelbristol.co.uk.