Twenty new series FH enter service with Knowles Transport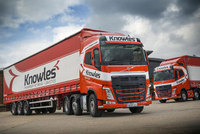 Twenty new series Volvo FH tractor units have entered service with highly-respected, Cambridgeshire-based, independent haulier Knowles Transport.
Knowles Transport, who isone of Volvo's oldest established and most loyal customers, operates a fleet of over seventy trucks, mostly Volvos.
The latest FHs to enter service with the family owned and managed company, are the final batch from an order for forty-five. All were supplied by Volvo Truck and Bus Centre East Anglia, Ely.
Specification of the vehicles includes Volvo's 13-litre engine rated at 460hp, I-Shift automated transmission and Dynafleet telematics.
According to Knowles Transport Business Development Manager Alex Knowles, the company chose the new series Volvo FH because of the reliability of the marque, driver acceptability and retention,but overallan exceptionally good relationship 'at all levels' with the dealer at Ely.
"As a professional family business, we own and operate our own vehicles and we use Dynafleet to measure vehicles as a cost centre," explains Alex Knowles.
"Haulage is a tough business on costs," adds Alex, before continuing: "From a measuring point of view, Dynafleet is essential. For one thing, it removes the need for phone calls to the drivers, and it helps our planners, because we know which trucks will be back first. It is also a crucial tool for our newly-appointed Head of Driver Development, David Cooper, as he can view what's happening with a truck, live on the Dynafleet app."
The latest FHs are expected to cover in the region of 150,000 Kms a yearandwill be used primarily on ambient food distribution contracts and also the transport of recyclable plastics.
Knowles Transport has operated Volvo trucks since the 1970s.