Majority of Brits would consider an alternative fuel car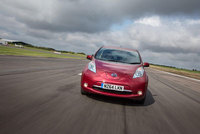 Most Brits would consider buying or leasing an alternative fuel car in the next two years, new research shows.
Of the 2025 GB adults polled on behalf of ContractHireAndLeasing.com, 65 per cent of responses indicated that they would consider at least one of the most common forms of alternative fuel vehicle (AFV), such as a hybrid car, a plug-in hybrid or an electric vehicle.
For both business and personal consumers, there are definite perks to considering an alternative fuel vehicle for their transport needs, such as lower tax rates and government grants.
But according to the survey, it was a non-rechargeable hybrid which was the most popular choice, despite these types of cars not being eligible for many of the perks that benefit other types of AFV, such as Congestion Charge exemption or the Plug-in Car Grant.
Nonetheless, ordinary hybrids, like the Toyota Prius, claimed the majority of the vote in favour of an alternative fuel vehicle, claiming 19 per cent of responses, indicating they would consider one of these vehicles within the next two years.
Conventional hybrids were followed by LPG powered cars (which could include models retro-fitted with LPG tanks), and plug-in hybrids (for example, a new Volkswagen Golf GTE), with these types of vehicle representing 12 per cent of responses each.
Hydrogen fuel cell cars, like the Hyundai ix35 FCEV, attracted as much interest as fully electric cars, with 11 per cent of responses each, despite the fact that there are as yet no commercially available hydrogen-powered cars in the UK. Meanwhile fully electric car models have been widely available for four years.
There were regional differences; fully electric cars were much more warmly received in the North East where 18 per cent of responses indicated an interest in EVs. Notably the North East is a region which was one of the first parts of the country to become a 'Plugged in Place', with an early network of public chargers established.
The North East is also home to Nissan's Sunderland plant, where the carmaker has been manufacturing its fully electric LEAF model since March 2013 – no doubt also inspiring local interest in electric cars.
Perhaps surprisingly, nearby in the Yorkshire and Humber region, there is evidence of less enthusiasm for alternative fuel vehicles. This region had the highest percentage of responses which said they would not consider buying or leasing an alternative fuel vehicle, at 43 per cent, followed by those in Wales at 42 per cent.
Younger generations were found to be more positive about alternative fuel vehicles, with the 18-24 age group the most likely to consider a plug-in hybrid, hydrogen fuelled car, and a fully electric car. Those in the 25-34 age group were the most likely to consider a non-rechargeable hybrid.
Dave Timmis, M.D of ContractHireAndLeasing.com – the UK's leading online marketplace for car leasing deals – commented: "Motorists appear to be increasingly interested in alternative fuel vehicles, as they look for vehicles which are cost effective to run.
"Particularly in the contract hire sector, customers are more able to overlook the typically high price tags of some of the newest alternative fuel vehicles and focus on tax and fuel efficiency benefits they offer.
"As alternative fuel vehicles usually benefit from low levels of BiK and VED tax, low fuel costs and are often exempt from the London Congestion Charge, they are becoming increasingly attractive options," he adds.