Rubondo Island Camp Opens the Treehouse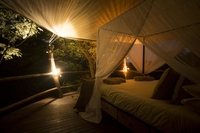 Rubondo Island Camp is the only camp on Rubondo Island, an uninhabited island 2.5 times the size of Manhattan in Lake Victoria. Home to a troop of wild chimpanzees who were brought to the island in the 1960s after being rescued from zoos in Europe, the island is also home to elephants, giraffe and sitatunga.
The Rubondo Island tree house is a romantic sleep out located an easy walk from the end of Rubondo Camp's private beach. The "tree house" is a circular platform that extends out from a lichen-covered rock-face and is surrounded by wild fig trees and hanging vines. A large "window" through the foliage opens out on a magnificent view over Lake Victoria.
The suite itself is an entirely open structure that is partially protected from the elements by a canvas canopy. There are no predators on this remote island, and high up in the canopy guests are safe from the roaming elephants and hippos that may pass below. The tree house has all the comforts of the main camp including a luxurious double bed, hot shower, large copper tub, en-suite flushing loo and an antique sink basin with hot and cold running water.
Guests make their way to the tree house at dusk and enjoy a sundowner and romantic picnic-style dinner. There is no electricity (only mobile solar lamps), so it's early to bed. In the morning tea/coffee and a muffin are brought to the tree house and guests are welcome to enjoy a breakfast in the main lodge at their leisure.
Rubondo Island Camp offers a unique forest and lake experience of walking, boating, canoeing, game drives, trekking through wild chimpanzee territory, gaining insight from the chimpanzee researchers, catch and release fishing, swimming, and simply relaxing.
There is no additional charge for the treehouse, which can be requested at the time of booking.
For more information, visit asiliaafrica.com.