Ibiza Rocks House at Pacha = Attitude, atmosphere & authenticity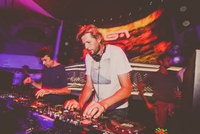 Ibiza Rocks House at Pacha put real atmosphere back into the big club this summer. There was no following the crowd or clubbing by numbers, just a deep desire to put the people back at the heart of the party, where individuality, personality and eccentricity were crowned king for 20 incredible weeks from 26th May to 6th October.
Monday nights were once again filled with unforgettable moments; sets from the godfathers of house music, the best of the new breed, local legends and one off live performances married with fantastical fancy dress saturated in surreal theatrical performance, all set to a timeless soundtrack. Each party was a breathtaking spectacle that encapsulated extravagant and unexpected performances as the club transformed, the heavy breath of hedonism filled the air and the crowd crammed into the ladies loos for Sunny's Bathtub Karaoke.
Revolving around amazing guests, friends, family artists and residents that reflected the real Ibiza, Ibiza Rocks House at Pacha has provided the ultimate fun playground to showcase a deep and genuine love of music from multi genres. Hugely influential original house pioneers played alongside new producers and Dj's to join the dots between the then and the now - Giorgio Moroder, Derrick Carter, Kenny Dope, Kevin Saunderson and DJ Pierre plus 2manydjs, Groove Armada and Basement Jaxx alongside Doorly, Huxley, Shadow Child, Claptone, Jesse Rose, The Magician, Jaymo & Andy George, 2Bears, Soulclap and George Fitzgerald. It's been an incredible summer, an inspirational run of parties and an emotional farewell…until the next time.
Here are some of our favourite moments:
1.Giorgio Moroder, Tony Humphries and Basement Jaxx all under one roof; 3 generations all influencing one another and displaying their genuine deep love of music
2. Green Velvet doing a Bigger than Prince sing-along with Derrick Carter
3. Duane Harden taking to the mic to sing as Kenny Dope played Arman Van Helden's 'You Don't Even Know Me'
4. Empress Stah's unique lazer show
5. The whole club going 'ohhhh' in unison when they see where the lazer is coming from
6. Drag queen Tom Lee appearing from the rafters singing Nessun Dorma
7. Doorly as he went back to back in the DJ booth with Dennis Ferrer, MK, S-Man, Huxley and Justin Martin
8. Showhawk Duo stunning the crowd everytime they appeared onstage to play classic dance anthems on their acoustic guitars…..genius
9. The first time Mirror Ball man was winched to the ceiling and spun above the heads of thousands of guests as a human disco ball
10. Bathtub Karaoke in the ladies loos with Sunny, Baby and some big bananas