Struie Road is back in time for Autumn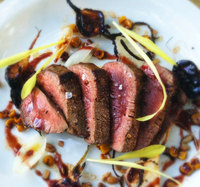 Struie Road is back just in time for Autumn, at Workshop Coffee on October 17th for their monthly pop-up event. And it is the start of their favourite time of year, as autumn marks the start of the game season and they have some wonderful wild treats lined up for guests.
For those who don't know Struie Road, it is the combination of two successful and growing companies: Workshop Coffee Co and The Wild Game Co, both of which have a passion for well sourced and seasonal produce. Struie Road presents some of the best produce available on the market in terms of game and is an evening comprised of an accomplished eight course-tasting menu. Starting with a glass of fizz on arrival and crusty bread with homemade infused butter, diners will then spend the evening tasting interesting and innovative Scottish delights.
Struie Road will start autumn with a delicious new menu. Grouse season is well under way in Scotland, which means one thing for Struie Road; a new grouse dish. The dish will showcase grouse in a 'Forest Floor Salad', using foraged mushrooms, dried cranberries and a pine and oat crumble. Grouse are famous for their rich, gamey taste and this dish compliments these flavours perfectly; the mushrooms add an earthy depth to the dish and are in high season at this time of year so make an ideal accompaniment for the grouse. The oat crumble adds texture and represents the grit grouse are known to eat in the wild to aid their digestion. Finally the cranberries add a subtle sweetness that cuts through the richness of the dish.
Alongside the grouse, September's menu sees some other new inventions; Pickled Herring and Wild Boar Chipirones, a small tapas dish. As well as some old favourites from other Struie Road events, the 'Surf and Turf', slow cooked Ribs and Oysters, the Venison Chateaubriand as the main course, followed by seasonal ripe cheese and Hokey pokey shards.
Also new for October is Struie Road's new recommended whiskey and gin; The Whisky is Balblair and the Gin is called Caorunn, both Scottish of course, from Speyside and Balblair have been distilling their wicked whiskey since 1824.
For more information and to purchase tickets head to our page On Design My Night, 'Struie Road'.
Tickets available at designmynight.com/london/whats-on/food-drink/struie-road
Struie Road at Workshop Coffee Co. –17th October 2014
27 Clerkenwell Road, London, EC1M 5RN
£49 per person including complimentary cocktail on arrival, from 7.30pm
W: wildgameco.co.uk/
Dates- Friday 17th October, Friday 21st November, Friday 5th December