Bar Humbug or Bar with Apres?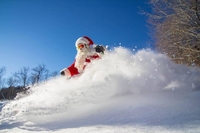 The idyll of driving to the mountains, with a Christmas tree strapped to the roof of the car, singing carols whilst holding paper lanterns and opening your presents on the animal skin strewn in front of the roaring log fire is somewhat displaced from the reality of it all...
It is certainly easier to stay at home for the festive season, light the fire, put on your Christmas jumper and open a bottle of Harvey's Bristol Cream.
Trying to pack as leanly as possible when you have ski boots, poles, skis shovels, and a helmet is no easy task.
You then have to endure travelling through busy airports at a time when airports, or their workers like to throw in a little 'dispute'.
By planning in advance and travelling with companies such as the Ski Club many of the travel nightmares are kept from you. You arrive at the airport and a lovely representative waves to you and shows you where to queue and even helps with your awkward luggage.
Once all checked in the rest of the holiday group are already upstairs and introductions are made. My load is lightened, the path is now guided, a drink is in hand, just a coffee for now but already I feel I'm on holiday. Result.
On arriving in Switzerland our 'private' transfer is easy to find and its not long before we are all off as we were all on the same flight. No waiting around for stragglers to appear.
It's about 2 hours on the bus but as soon as we start to drive through the pretty illuminated villages and we catch sight of the snow-covered fir trees the excitement returns.
Christmas comes but once a year. However, that child-like feeling of extraordinary excitement returns every time you travel up the winding road and see those twinkling lights appear on the mountain top.
Resorts can seem busy over the holiday periods but having your own leaders and instructors already allocated to your holiday means none of your precious holiday time is wasted and you can find the best slopes away from the crowds.
Ski Club leaders can also whisk you off to the quieter areas and secret ski spots so you have the best ski experience possible away from the masses and the beaten tracks.
Enjoy the slopes before the holidays begin.
Courmayeur with its excellent snow record, backed by state-of-the-art snowmaking facilities, means good skiing conditions are almost certain. Two days with British BASI instructors followed by skiing with Ski Club Leaders is a great way to get the season underway. Any spare time off the slopes and not in the very sociable apres can be used to fit in a few last minute Christmas purchases from the selection of shops and boutiques.
Dates: Sunday 14 Dec- Sun 21 Dec, 7 nights chalet board at Chalethotel Cristallo, twin share, return charter flights, coach transfers, 2 days with instructors, Ski Club Leader £799pp. skiclub.co.uk/freshtracks
Six day standard adult lift pass price guide €234 (Courmayeur Premium)
Bar Humbug or Bar with Swiss-style Apres?
The vibrant town of Davos offers its guests endless pisted runs, fabulous restaurants and a vast ski area. You're able to concentrate 100% on your skiing. No worrying about the turkey or how to flambé the Christmas pudding. The Ski Club's leaders show you to the best ski areas and lead you to the mountains restaurants. Top of the Christmas list; Thrills & Spills - Where and when possible you can venture into accessible off-piste to get some powder thrills before heading to the animated or relaxing apres, your choice, for a Gluhwien, hopefully with no spills. Take the stress out of your Christmas.
Dates: 24 December, return on 1st January. Includes: Scheduled flights from Heathrow-Zurich, Transfer, Half Board and New Year's eve celebration & meal. £1,799 sunstar.ch/davos skiclub.co.uk/freshtracks
Dear Santa, may I get some Fresh Tracks?
The Freshtacks off piste holiday to Andermatt in Switzerland has enormous off-piste opportunities and a reputation for generous dumps of snow. 6 days with mountain guides are included in this holiday as well as scheduled flights from Heathrow to Zurich, transfers, half board at the 3* Hotel Sonne and Ski Club Leader. Loosen your belts a notch and loosen those legs post Christmas. Dates: Sat 28 Dec-Sat 4 Jan, £1499pp.
As well as easing your route to the slopes, the Ski Club can save you money on clothing and hardware. Their website also has the most comprehensive weather and snow reports that can help when packing for your trip. For more Snowsports advice and help go to skiclub.co.uk.
Twitter: @TheSkiClub #winterscoming #loveski
skiclub.co.uk/freshtracks