New additions to Copenhagen's dynamic culinary scene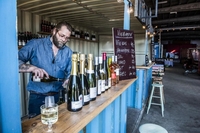 Nordic cuisine with organic and local ingredients in an unpretentious atmosphere characterise the dining scene in Copenhagen. Each restaurant is distinctive with inventive and trendsetting dishes that define Copenhagen as a leading gastronomic destination with the "Best Restaurant in the World," the "World's Best Chef," and a total of 17 Michelin-star.
From accomplished Michelin-starred kitchens comes the next wave of culinary stars
Uformel (Informal) In late May 2014, Kristian Arpe-Moller and Rune Amgild Jochumsen, the team behind Michelin-star restaurant Formel B, opened the self-proclaimed "cool and edgy younger brother," Uformel.
Chef Frederik Rudkjobing, the former sous chef at Formel B, works closely with small Danish farms and continually looks for seasonal ingredients from across the globe to provide guests with simple and sustainable dishes like Danish Organic Lamb with Tomato and Grilled Salad, and Ceviche of Turbot with Green Strawberries, Grilled Fennel and Pickled Garlic.
Sommelier Martin Iuel-Brockdorff Bek's close relationships with wine suppliers allow Uformel to serve the best varietals possible with a list full of bottles and glasses in every price range. Along with hand-selected wines, cocktails from one of Denmark's best bartenders, Hardeep Rehal, complement the chef's creations.
Uformel serves lunch and dinner daily.
no. 2 This new restaurant, which opened in June 2014, is the relaxed and laid-back accompaniment to the gourmet, Michelin-starred establishment, AOC. Located on the water in Christianshavn, no. 2 gives guests a grand view of the Copenhagen Canal and the Black Diamond—the new extension of Denmark's Royal Library—and provides Resident Chef Nikolaj Koster with the opportunity to feature fresh, local seafood.
Together with Soren Selin, co-owner and chef de cuisine at AOC, Chef Koster focuses on elements such as beach, sea, forest, and field in the detail-oriented dishes that feature raw ingredients thoughtfully combined in innovative creations like North Sea Cod, Salt Baked Celeriac, Browned Butter and Sorrel, and Radishes with Smoked Cheese and Bottarga.
The wine list at no. 2 was created by Christian Aaro, owner of AOC, and the "Best Sommelier" in both Denmark and Norway. It ranges from local to global selections, with an emphasis on sustainable wines.
no. 2 serves lunch Wednesday-Saturday, and dinner Tuesday-Saturday.
Restaurant Kul (Coal) The chef duo who worked the lines at The Paul, the now closed Michelin-starred restaurant in Tivoli Gardens from Paul Cunningham, opened the trendy Restaurant Kul in November 2013 in the popular Meatpacking District.
Chefs Christian Mortensen & Henrik Yurk prepare dishes on either a Yakitori grill or Spanish Josper griddle, and feature an approachable, seasonal menu inspired by Californian cuisine with dishes like Rib on the Bone with Mac & Cheese, Pepper Sauce and Caesar Salad, and Mackerel with Peach, Shiso and Chili Gastrique.
The wine list at Restaurant Kul is a mix of quirky overseas wines and continental "pleaser wines."
Restaurant Kul serves lunch and dinner daily.
Historical locations with stellar restaurants
Tarnet (The Tower) On June 11, 2014, Tarnet opened in an incredible space at the top of Christiansborg castle, home of the Danish Parliament. The restaurant provides guests with an idyllic Danish dining experience, with stunning views of Copenhagen. Guests are served the highest-quality and simply prepared culinary creations from Chef Mikkel Laursen, formerly of the Copenhagen Opera House.
Rasmus Bo Bojesen, owner of Tarnet, world famous chocolatier, and the man behind the restaurant at the Copenhagen Opera, works closely with Chef Mikkel to create an extraordinary meal in which they reveal the inspiration, stories, and ideas behind the delicate, modern, and 'Old Nordic'-influenced dishes like Tartare of Danish Beef with Tarragon Mayonnaise, Crisp Onion and Horseradish, and Fillet of Turbot with Bodynamic Vegetables from Kiselgarden, Dried Seaweed and a Creamy Sauce of Line Mussels and Herbs.
Tarnet serves lunch, afternoon tea, and dinner, Tuesday-Sunday.
Restaurant Slotskaelderen (Castle Cellar) The newly renovated Kokkedal Castle, 25-minutes outside of Copenhagen, opened Restaurant Slotskaelderen in its 18th century vaulted cellar.
The menu, created by Head Chef Frank Svard, formerly of Skovshoved Hotel, focuses on local, classic influences with an emphasis on "seasonal simplicity, flavour, and refined culinary craftsmanship" in dishes like Filet of Sole and Minced Sole with a Variation of Tomatoes and Beurre Blanc and Creamy Goat Cheese with Quince, Pistachio and Malt.
The castle cellar dates back to 1746, and its original vaulted ceilings and candle-lit tables create an intimate and romantic setting that takes guests back in time.
Restaurant Slotskaelderen serves breakfast, lunch and dinner daily.
New, casual restaurants breaking the new nordic trend
Foderbraettet (The Bird Table) The Danish hot dog stand, which has been a cultural institution since 1920, has been reinvented thanks to Foderbraettet. Since its opening in March 2014, the restaurant has been serving untraditional hot dogs—ox, pig, lamb, and tempura cod—with champagne and craft cocktails. The restaurant also serves a limited edition hot dog, which is currently a "Mexi-Dog."
Located in an old bank in Vesterbro, the restaurant draws its inspiration from Bubbledogs in London and Wurstkuche in Los Angeles. On the weekends, guests can enjoy live entertainment from top DJs. Foderbraettet also features a bank vault, which is available for private events.
Foderbraettet is open Monday-Saturday.
Ol & Brod (Beer & Bread) The world-class brewery, Mikkeller, pairs its brews with Smorrebrod, the traditional Danish open-faced sandwich, at the new lunch spot Ol & Brod.
With a traditional backbone, the menu uses imaginative, fresh and ever-changing ingredients, providing guests with a modern twist on the Danish mainstay.
In addition to offering beer, Ol & Brod prides itself on offering the most "extensive and ambitious" selection of Aquavits in Denmark. The selection of the flavoured spirit ranges from traditional Scandinavian Aquavit to modern creations and rare vintages.
Ol & Brod is open Tuesday-Sunday.
Copenhagen Street Food Copenhagen Street Food opened in April 2014 in a warehouse previously used for storage for the Danish newspaper on Paper Island. The market currently offers 15 trucks, each with approachable prices and menus, aimed at promoting and supporting the global street food movement. Fan favourites include Danish hot dogs, Italian charcuterie, Mexican tacos, Belgian frites, Cuban fare, and Turkish street food.
The focus on sustainability is evident in the market's use of recycled items. The stalls are old storage containers, benches are made from recycled wood, and the walls are insulated in an old-fashioned method using mussels.
Copenhagen Street Food is open daily, weather permitting.
20 a Located at 20 a Ravnsborggade Street in the Norrebro district, this new restaurant is the latest addition to the growing dining destination, an area traditionally known for its vintage and modern Danish furniture stores.
20 a serves French wine and Mediterranean food with Nordic influences. The restaurant's focal point is the expansive map of French wine districts that covers the ceiling.
20 a serves lunch and dinner Monday-Saturday.
Baest (Beast) Christian Puglisi, the owner and chef of restaurants Relae and Manfreds & Vin, is opening the new establishment Baest in the Norrebro district later this year. Authentically focused, this Italian-influenced restaurant will serve wood-fired pizzas, organic meat and mozzarella, house-cured charcuterie, yeast-free fermented bread, and natural Italian wines.