Sailboat skiing Iceland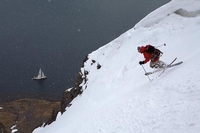 Adventure specialists AnotherWorldAdventures.com announce 2015 dates for the sell-out six day sailboat skiing expeditions to the stunning Hornstrandir Nature Reserve in the West Fjords of Iceland.
The West Fjords region is one Iceland's most remote and exciting areas. The mountains, sheltered fjords and bays offer endless pursuits for outdoor enthusiasts and nature lovers.
On this trip guests enjoy exploring a unique part of Iceland - the West Fjords and its Hornstrandir Nature Reserve, which is packed with unspoilt landscapes and a rich history. It's an area that is virtually inaccessible. There are no roads in the nature reserve— and the only way to explore is by boat. Unsurprisingly then, guests can expect to say there for days without meeting a single soul. Doing so, they'll have a chance to discover the absolute essence of remote Iceland.
Marine and aviary life abound in the deep and dramatic fjords and the unexplored landscapes make for an adventure playground for a curious and adventurous explorer.
Another World Adventures is happy to announce the 2015 ski sail season in Iceland for adventurous travellers who really love getting off the beaten path.
For €1,750 pp guests can join a quality expedition sailboat on a choice of six-day ski and sail adventures between March and May 2015. There are roughly 6-8 hours of skiing each day for participants although anyone wanting a shorter ski day can simply ski down to their mobile hut when they are ready. The yacht also comes equipped with some kayaks for those looking for a different perspective on this incredibly moving landscape.
Each night the group will anchor in a different location and the evenings will be spent refueling on outstanding gourmet food.
The expedition yacht is a former race yacht and serves as the perfect movable base to spend these six days skiing between the remote fjords and the unexplored mountains – many of which have never been skied before.
The crew is experienced, friendly, professional, and ready to help everyone have the most amazing one of a kind experience. Guests can join the adventure solo or as part of a group. The yacht has been fitted to accommodate ten guests and two crew – so the groups on this expedition are small and cozy.
Highlights include:
Sailing the remote fjords of NW Iceland
Exploring the area by zodiac dingy and on snow shoes
Skiing the steepest slope on the trip of 45 – 50 degrees
Stunning views of the bay and ice fjords every day
Picking mussels in Arctic waters to enjoy as prepared by the chef
Kayaking around the bay to get a closer view of this beautiful area
Absolutely no sailing experience is required and those of all backcountry ski abilities are welcome.
Full details and to apply: AnotherWorldAdvetures.com