Dusit Thani Dubai unveils a new era of luxury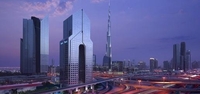 The iconic 5-star property has completed the renovation of its 147 One and Two Bedroom Suites.
Dusit Thani Dubai, Dusit International's flagship property in the vibrant city of Dubai, announces the completion of the renovation of its One and Two Bedroom Suites.
"After the renovation of the hotel's Deluxe Rooms and Executive Suites in 2013, Dusit Thani Dubai takes pride in the completion of its One and Two Bedroom Suites, which is the final phase of the facelift in the hotel's rooms and suites. The finished product has exceeded our expectations. Each suite exudes comfort and functionality, combined with bespoke touches of luxury and carefully-thought out details", shared Prateek Kumar, general manager of Dusit Thani Dubai.
The new transitional design offers five star luxury level lifestyle, with rooms that have been carefully replanned to allow better use of existing space. In keeping with the Thai principles of creating open spaces and bringing the "outside-inside" a full-height mirror wall has been utilized throughout to enhance the internal spaces, with all new fixtures and fittings, and soft furnishings custom-made to suit each apartment.
The new design features both traditional Thai-inspired handcrafted timber casegood furniture, "floating" walls embellished with gold leaf mouldings, and intricate hand carved artwork, and sculptures, together with modern LED, and energy saving lighting, and the latest LCD television and media hub technology in all 147 rooms. This, coupled with striking Jim Thomson fabrics, rich carved effect wool carpets in a subtle design, sumptuous new sofas, vibrant seating design, and new luxury 10" pocketed sprung deep divan sets, offers the modern traveller who is design aware, but prefers style without show, and comfort with style.
"The completion of the One and Two Bedroom Suites is just one of the hotel's major projects in the pipeline. Also taking place this year is the introduction of two new food and beverage outlets and the spa facility. Dusit Thani Dubai continuously aim to uplift our guests' experience not only by providing them with our unique gracious Thai hospitality but also by upgrading our facilities that suit their needs" shared Kumar.
About Dusit Thani Dubai
Dusit Thani Dubai is an iconic 5-star hotel that captures the essence of Thailand in the vibrant centre of Dubai's bustling city.
Whether you are travelling on leisure or business, the hotel's prime location ensures that you make the most of your time with us. Dubai's main business hub is within five minutes of the hotel's doors. The airport can be reached in just 20 minutes and the nearest metro station is within walking distance, making travelling across Dubai quick and convenient. What's more, the world's tallest tower, Burj Khalifa, and the world's largest shopping mall, The Dubai Mall, are just a stone's throw away.
The hotel's renovated rooms combine luxury with convenience. Enjoy unparalleled views of Dubai's iconic skyline while relaxing in the comforts of Thai elegance and grandeur. The hotel's Club Rooms and Suites provide guests with added benefits with access to the hotel's Club Lounge and additional facilities.
Take a sensory journey of thoughtfully-prepared dishes inspired by flavours spanning the globe as our Chefs and Restaurant Managers entertain you in the hotel's food and beverage outlets. Enjoy the majestic setting of Benjarong, serving Royal Thai Cuisine straight from the palaces of Thailand, Italian favourites with views across Dubai in PAX or international buffet offerings in The Californian.
Dusit Thani Dubai's meeting and social events spaces offer flexibility and value. The M Floor's five meeting rooms and dedicated Executive Boardroom provide the perfect venue for a meeting, training session or product launch, all being centered around a Central Coffee Break Station, ensuring that your delegates and attendees are focused and sessions go uninterrupted. The Al Wasl Ballroom sets the scene for the perfect gala dinner or wedding and is adaptable for any size event being able to host up to 600 people seated gala style.
Dusit's famous and unique Thai hospitality is evident throughout the hotel and our colleagues delightfully look forward to welcoming you to the hotel and making Dusit Thani Dubai your home away from home.
For more information, visit dusit.com.