Autumnal break to the New Forest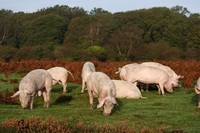 It is a nice coincidence that autumn is not only one of the best times of the year to visit the New Forest, it is also one of the cheapest with many properties offering mouth-watering deals.
Located in Brockenhurst, Cottage Lodge, which has recently changed its status from B&B to hotel with the opening of the highly-acclaimed Fallen Tree Restaurant, has a special autumn and winter offer of a 'three nights for the price of two' from just £50 per person including the New Forest Marque breakfast, a delicious 'full English' using ingredients all of which are sourced from Hampshire.
The property has 16 bedrooms, many of which are furnished with hand-crafted items including beds and dressing tables made from 'fallen' New Forest trees.
Even the tables in the appropriately named Fallen Tree restaurant were made from a rare, black, poplar tree.
As October slopes towards November and the forest bursts into spectacular colours of fiery reds and oranges the New Forest 'commoners' indulge in the ancient right of 'pannage', letting pigs loose to provide an essential agricultural service by eating the acorns that are poisonous to ponies and cattle.
Autumnal walks are a genuine pleasure, with free guides available from the New Forest Visitor Information Centres, with many pubs with crackling fires to discover; perfect for enjoying a post-walk local ale or two!
Cottage Lodge is the perfect base to visit the many places of interest in the area including the Exbury Gardens which are spectacular during the autumn months.
Also not far away is the little town of Beaulieu, home to the National Motor Museum (great should the weather take a turn for the worse) and the Palace and Abbey which are located within the grounds of the famous estate.
The special three nights for the price of two offer is available from now until the end of November (excluding half term).
For more information, visit cottagelodge.co.uk.