The Halloween Ball - An affair by Baron Vrykolakas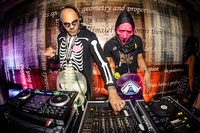 Consider yourself warned. This winter no sins will go unpunished as The Mansion London is set to unveil a thrilling event, namely, The Halloween Ball, an affair by Baron Vrykolakas.
Already much loved among London's party elite, and preferred by those in the know, The Mansion will host the eagerly anticipated affair in a secret location in W2 on Saturday November 1st, and looking at the program, there is no doubt that the spine chilling ball will excite, electrify and stupify, again and again... Of course the guest list is strictly limited to those believing they have what it takes and Baron Vrykolakas has personally specified: only the wild, fanciful and exquisite reveller will be invited.
Tucked away in a surreptitious corner of Holborn, the exclusive venue has been awarded the Architectural RIBA prize for its innovative modern design, and will comprise two impressive dance floors. Throwing its doors open to the world for the first time, the Baron's wild night of debauchery will surely make it into London folklore.
Ensuring the music appeals to the sophisticated crowd, Fabrizia Corsi will spin her sexiest electro sets on one floor, while the legendary DJ Femi Fem will provide funk, groove, disco and soul on the other, playing it all to the beat of Sam Baws' African Bongo. A live vocalist and the incredible jazz sax player, Glacomo Smith, will accompany the DJ's on stage, while inexhaustible entertainers will fulfil frenzied fantasies, as female vampires, ready to pounce on their prey, entertain crowds from cages suspended above the dance floor. In true Halloween spirit, international psychic, Laura Boyle will be there to reveal guests' darkest secrets, and talented face & body painter, Miss Anna, is sure to bring out the most devilish side of anyone approaching her.
Bringing guests out in goose bumps, old school, horror movies will be projected throughout the evening, and the party will feature a one-off art exhibition by Argentum Gallery on the vintage book sculptures of the international multidisciplinary London based artist, Christina Mitrentse.
The Mansion London is the first and only "night house" in London. Putting on exclusive themed parties at some of London's grandest and most secret locations, they create the optimum environment for the cosmopolitan and friendly crowd to chat, flirt, relax, listen to live music, admire art and dance to top DJs.
A place where going out and staying in come together.
Fancy Dress Mandatory – The best costume will be rewarded
Tickets start at £16.50
Doors open 9pm - 3am
Location will be revealed to ticket holders 48 hours before the event.
W: themansionlondon.com