Spaghetti House celebrates London Restaurant Festival 2014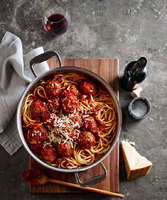 From Michelin-starred restaurants to neighbourhood bistros, this year's London Restaurant Festival lifts the lid on the capital's most interesting cooking. For three weeks in October, you can eat to your heart's content and indulge in the pleasure of trying out a diverse range of cuisines in this city-wide celebration of eating out.
Joining in this year's celebration is Spaghetti House, one of London's most iconic and best-loved Italian restaurant groups, which is offering a mouth-watering Festival menu at a very appetizing price. For just £17.95 per person, you can enjoy a two course meal and a festive flute of Prosecco all any of the 12 branches across town. Any of the Spaghetti House restaurants can be booked through the user-friendly Bookatable.co.uk website, which is also the official booking partner of London Restaurant Festival.
Included in the Festival menu are some unusual Italian regional dishes, real specialities to tantalise your tastebuds, such as Caponata alla Siciliana – classic dish of aubergine, tomato, celery, green olives, capers & aged red wine vinegar with toasted artisanal bread or Arancini with Gorgonzola e Funghi with Arrabiata Sauce – stuffed rice balls with gorgonzola & mushroom, served with a spicy tomato dip. Or try the delicious Pollo all'Aglio con Rosmarino e Fregola – pan roasted chicken, rosemary and garlic, with Fregola, small pasta from Sardinia & autumnal vegetables. For pasta lovers, you can't beat one of Spaghetti House's signature dishes, the lip-smacking Linguine with Gamberoni e Zucchine - linguine with King prawns, zucchini, white wine, lemon zest & chilli – a dish which simply must be tried.
Add a glass or two of wine if you want to linger at the table, or round off your meal with a cup of coffee from illycaffé. Spaghetti House's Festival menu showcases just how delectable Italian regional cuisine can be, and the prime quality ingredients used by a creative team of chefs turn it into a real foodie experience.
With 12 restaurants from Knightsbridge to the West End, and from Westfield London to the edge of the City in Holborn, Spaghetti House continues to surprise and delight with its seasonal menus.
W: spaghettihouse.co.uk