New Volvo FL and Volvo FMX – Now with crew cab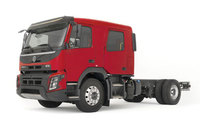 The new Volvo FL and Volvo FMX are now available at Euro-6 with the option of a four-door crew cab for operations such as fire and rescue services or roadside assistance. The crew cabs offer the same high level of safety as all Volvo Trucks' other cabs.
"We are very proud to be able to offer two modern and safe trucks for this specialised type of work. With the nimble Volvo FL and the robust Volvo FMX, we now have a wide range of trucks with crew cabs," says John Comer, Product Manager at Volvo Trucks, UK & Ireland.
Volvo FL Crew Cab
The new Volvo FL Crew Cab is intended for gross vehicle weights (GVW) of up to 16 tonnes. The cab seats up to six people, has a low two-step entry and four doors that open 90 degrees make it easy to get in and out.
"With the new Volvo FL Crew Cab we can offer far more scope for customer-tailored solutions straight from the factory. For instance, we have the choice of five- and eight-litre engines available from 210hp to 280hp, with models available at 12-, 14- and 16-tonnes," says Tobias Bergman, product manager for the Volvo FL and Volvo FE.
Volvo FMX Crew Cab
The Volvo FMX is built for heavier and more demanding work and is a robust and powerful truck that can get just about anywhere. The new Crew Cab option is available as a 4x2 or 4x4 all-wheel drive configuration. The air-suspended cab seats six people, features an easy-to-clean interior and four doors that open up to 90 degrees.
"We have also attached considerable importance to the design of small, but vital details. For example, the rear footsteps on the Volvo FMX Crew Cab open out at an angle that makes it easier to quickly and safely exit the cab in operations where time is of the essence. The entry grab-handle is now yellow, so it is easy to see under all conditions, and the in-cab lighting has been improved," says Peter Hardin, product manager for the Volvo FM and Volvo FMX.
Both the trucks have full EU type approval and are factory-prepared for simple bodybuilding.
The crew cab is also available for the Volvo FM range by special order.