LUX* Belle Mare is unveiled to redefine luxury in Mauritius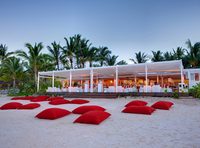 Over the last three years, LUX* Belle Mare, the flagship property of LUX* Resorts & Hotels, has been undergoing an exciting transformation by award-winning designer, Kelly Hoppen. Now just in time for the season, this much-anticipated, revamped hotel is turning heads and ensuring that LUX* Belle Mare represents a new era of luxury for the island and its guests.
Now boasting a complete inventory of private villas, rooms and suites by global design queen Kelly Hoppen, the guest accommodations at LUX* Belle Mare are unlike anything else available in Mauritius – a real beach home away from home. Bedrooms feature his and her minibars and Café LUX* coffee makers, stocked with fresh coffee, roasted on-site. An all-new, in-room entertainment system showcases 48 channels and video on demand in six languages, which are presented vividly on 48 inch IPTVs and played through high fidelity surround sound, from a state-of-the-art Focal® system. Guests are also able to stream music from their personal devices via Bluetooth, thanks to free high-speed internet and a comprehensive range of international sockets, that complete the technology menu. Most importantly, every room features the LUX* rest set-up, offering the company's exclusive LUX* Sleep Tight mattress and super high thread count Egyptian cotton linens for extra comfort and indulgence.
The public areas and extensive landscaped gardens (courtesy of Stephen Woodhams) have been modeled in an imaginative way with intriguing pop-up places to dine, drink, socialise and retreat.
The main restaurant M.I.X.E turns conventional all-day dining back-to-front, featuring a display wood fired oven and grill, live cooking stations, a complete Chinese kitchen and Japanese Teppanyaki corner, Indian tandoors, plus special treats for those with a sweet tooth.
Amari by Michelin-starred celebrity chef Vineet Bhatia, presents the textures and flavours of India. This is a Mahâbhârata of flavours and colours, served in minimalist opulence. Heading further east, Duck Laundry is the place for contemporary Chinese cuisine, with Peking duck as a house specialty. Dim sum, live noodle stations featuring the signature "Dàndàn miàn" and a Chinese barbecue complete this oriental offering.
Beach Rouge is where the island's elite hang out by day and party by night. Evoking the laid-back vibe of the French Riviera this bright, airy venue frames postcard views of a perfect white beach and the bluest lagoon beyond – a colour motif that accentuates the lunchtime experience. As the sun goes down, fiery reds transform the backdrop for evenings of fine food and great company, accompanied by live music and dancing, curated by Playlister's Ben and Dan, and hosted by regular guest DJ's, who spin the night away.
LUX* pays homage to this island of sugar, a quintessentially Mauritian produce, with Mari Kontan – a cabana-style boutik showcasing the history, language, culture, food, rums, music and dance of Mauritius, including a selection of local products. The K-BAR (muse Ms Hoppen) entertains with its dragon-inspired cocktails and headlines with another LUX* first: a microbrewery design centerpiece which adorns the bar, where an exclusive range of craft beers are available on-tap at the bar, delivered direct to guests in-room bar.
Cafe LUX* is the stage for an authentic and immersive coffee house experience, with the green organic beans roasted in the resort's very own roastery. All the coffees are now prepared with fresh Mia milk, delivered direct from the island's first working dairy.
No less refreshing is ICI – an indulgent assortment of island-flavoured ice creams and sorbets served in waffle cones that are baked right in front of your eyes. There is also a delicious choice of ice creams and lollies.
The Tea House features the finest oriental teas served following the ancient ceremonial traditions.
The LUX* Me concept emerges from a ground-up rebuild as arguably the best spa on the island. Zhengliao, a deeply curative and corrective treatment drawing on several branches of Chinese medicine is one of the new signature treatments. Bali- nese, Thai, Swedish and Ayurvedic complete the amazing offerings. Shirley Page has designed new, restorative facial treatments to provide our guests with a refreshed look to take home. The spa retail offers a new range of over 120 LUX* ME products to appeal to both men and women. A state-of-the-art Technogym measuring around 200 square meters is fitted out with the latest range of equipment and courses designed and personalised to match guests goals with dietary advice, should they wish to complete an integrated wellness programme. Experience sun salutations at the new East Board Walk Deck whilst watching the spectacular sunrise in the company of our Yoga Guru.
Conscious that travellers are spoilt for choice when it comes to holiday options, LUX* Resorts & Hotels developed its original Reasons To Go LUX* including firm favourites Phone Home, (free phone calls from London telephone boxes), Message in a Bottle (quirky acts of kindness), Scrucap (superlative house wine from the vineyards of South Africa), Screen on the Beach (outdoor cinema paradiso) and Starry, Starry Night (exploring the skies of the southern hemisphere by telescope).
To celebrate the debut of LUX* Belle Mare, six new Reasons To Go LUX* are also making their first appearance – a new luxury innovation to be discovered across the whole portfolio of LUX* Resorts & Hotels in Mauritius, La Réunion and the Maldives. Prepare to be surprised and to be delighted.
Ultimately, luxury is all about service and here at LUX* Belle Mare it shines brighter than ever as every one of the expert 400 plus team members, strive harder than ever to help guests celebrate life. Intuitive, friendly and unpretentious - they create an atmosphere that is as soulful as it is sybaritic.
Paul Jones, CEO of LUX* Resorts & Hotels, says "I have personally opened and re-opened several luxury hotels in Mauritius and world-renowned resorts further afield. Nothing has excited me more than the creativity and passion with which we have prepared and finished LUX* Belle Mare. She emerges as a true beauty and a credit to her island home."
In its quest to deliver a "Lighter. Brighter." brand of luxury, LUX* Belle Mare not only presents an irresistible reason to discover the island for the first time but for those who have already visited Mauritius, a reason to return. Surpassing all expectations of a deluxe five star resort in the Indian Ocean, Mauritius is cool and LUX* Belle Mare is the place to be.