Copenhagen's hotel scene revamped: From boutique novelties to icons reborn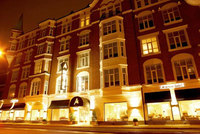 From new hotels and renovations to world class food and spa experiences, Copenhagen hotels offer more than a place to rest your head.
The Danish capital of Copenhagen is one of the most cutting-edge yet historic destinations for the modern traveller. New, renovated, and noteworthy accommodations across the city give travellers many options—whether traveling for work or play, seeking design-forward budget accommodations or the chance to stay in a mid-18th century castle. The following are recent and distinctive hotel updates to Copenhagen that are reason enough to make the trip to Denmark.
Hotel SP34 - The city's newest bohemian chic hotel "Luxury Bohemians," will feel at home at Brøchner Hotel Group's newly opened Hotel SP34. This 118-room boutique hotel in Copenhagen's Latin Quarter underwent a £7* million renovation and now features two restaurants, four bars, a rooftop terrace, and a penthouse suite with a one-of-a-kind panoramic view of the city, showcasing the original and historic setting of the neighbourhood. In August 2014, Hotel SP34 will also add a fitness center, two-story conference centre, and Copenhagen's first private hotel cinema.
Additionally, Brøchner Hotel Group's three Copenhagen hotels – Hotel SP34,Hotel Danmark, and Hotel Astoria – offer a daily wine hour. From 5-6pm, guests are invited to enjoy a glass of wine while mingling with fellow guests, hotel staff, and locals. The wines on the "Four Virtues Wine Menu" are carefully chosen by the staff and are based on four virtues: Sustainability, Quality, Diversity, and "Joie de Vivre."
Rates begin at DKK 670** or GBP70*** a night for Hotel Danmark and Hotel Astoria; rates begin at DKK1100** or GBP 115*** for Hotel SP34
Babette Guldsmeden – New sustainable, boutique hotel Unwavering sustainability and lavish simplicity characterise this intimate, new hotel Babette Guldsmeden. Situated in a historic building from the early 1900s, this 98-room hotel overlooks the Queen's Gardens and stays true to the nouveau-bohême culture and sustainable philosophy behind the Guldsmeden Hotels. Babette Guldsmeden focuses on sustainability when it comes to the culinary program, featuring 90-100% organic food and drink in both Babette's Feast, the hotel's signature restaurant, and Babette's, the hotel's wine and cocktail bar. The hotel also introduced an intimate, Balinese-inspired rooftop "sky spa," which includes a sauna, cold tubs, steam bath, and a relaxation area, complete with salt and coffee scrubs that are freshly prepared by the culinary team daily.
Rates begin at DKK 1,000** a night, approximately GBP 104*** a night
Kokkedal Castle Copenhagen – Introducing Kokkedal Castle Spa After six-years of renovation, the 18th century Kokkedal castle, now part of Small Luxury Hotels of the World, takes guests back in time without sacrificing the modern comforts of today. Among these include 62 luxury guest rooms, ranging from Superior Rooms to Junior Suites with lavish amenities; a brand new Kokkedal Castle Spa by Sodashi, which features a swimming pool, state-of-the-art treatment rooms, sauna/steam room; and a 100% natural product line from Australian spa brand Sodashi.
The acclaimed Castle Cellar Restaurant features local produce prepared with unbeatable culinary craftsmanship providing guests with a taste of Danish country cuisine, and the castle's high tea offering on Sunday is always in high demand.
The ideal countryside location, about 30 minutes outside of the city, gives guests the opportunity to indulge in golf at neighbouring Kokkedal Golf Cluband access to exclusive art packages at a handful of nearby museums including Louisiana Museum of Modern Art, Museum Nivaagaard, and theKaren Blixen Museum.
Rates begin at DKK 1,995**, approximately GBP 208*** a night for two people in a double room including castle breakfast and entrance to the three museums
Hotel Alexandra – Where classic meets modern design Following an extensive renovation, this 61-room, design hotel re-opened in March 2014. Hotel Alexandra now features a collection of world famous, Danish mid-century vintage furniture from the '50s and '60s in each guest room, providing a distinct representation of the era. The Finn Juhl and Verner Panton Suites, as well as the Arne Jacobsen Deluxe Room, pay homage to three renowned Danish furniture designers, blurring the boundaries between hotel and museum. Hotel Alexandra also features The LêLê Street Kitchen, an award-winning Vietnamese-inspired eatery and takeaway restaurant.
Rates begin at DKK 800**, approximately GBP 84*** a night
Hotel D'Angleterre – An icon reborn Originally established in 1755, the iconic Hotel D'Angleterre recently underwent a complete restoration while maintaining the elegance and romance for which "The White Lady" is famous.
Today's refined travellers will find comfort in the 90 guest rooms – mostly suites – which include marble bathrooms, plush linens, and state-of-the-art entertainment technology designed by world-famous Bang & Olufsen. For the most luxurious experience, the Royal Suite features a grand balcony, a fireplace, and a 10-person dining room.
Marchal, the hotel's Michelin-star contemporary restaurant led by top chef Ronny Emborg; Balthazar, an elegant Champagne bar; the new 4,300-square-foot spa; and the only hotel swimming pool in the city are sure to give every guest the royal Danish experience.
Rates begin at DKK 2750**, approximately GBP 288*** a night
New Spa Floor at Hotel Kong Arthur The Hotel Kong Arthur, which dates back to 1882, is now offering an unforgettable experience with an entire new floor dedicated to spa-themed guest rooms. The Spa Senses Rooms and Spa Executive Rooms are adorned with warm and soothing colours, scents, and music, creating a serene environment for a calm and restful stay. The Spa Executive Rooms feature private hot tubs, and all of the spa guest rooms include special savings on spa treatments as well as complimentary access to the Asian-inspired, Ni'mat Spa - the largest spa in Copenhagen.
Rates for Spa Senses rooms begin at DKK 1,335**, approximately GBP 140***; Rates for Spa Executive rooms are DKK 1,675** , approximately GBP 175***(equivalent to a junior suite with hot tub in the room)
Wakeup Copenhagen, Borgergade – New affordable, design-focused accommodations The Arp-Hansen Hotel Group, which offers affordable, design-focused accommodations, recently unveiled the brand new Wakeup Copenhagen, Borgergade, complete with 341 rooms and another 157 rooms expected in the fall. This new location in the heart of the city was designed by Danish architect Kim Utzon, and exemplifies the characteristics of all Wakeup hotels: affordable prices, modern design, and central location.
Rates begin at DKK 400**, approximately GBP 42*** a night
Avenue Hotel – Upscale design meets boutique atmosphere This designer boutique Avenue Hotel was recently nominated for the World Luxury Hotel Awards, a direct result of its personal service and friendly atmosphere. The 68-room hotel is located in central Copenhagen, between hip Nørrebro and charming Frederiksberg. The property aims to bring a neighbourhood and local feel into the hotel, as showcased in the interior design, local dishes, and partnerships with area artists and local designers. The hotel also offers Avenue High Tea, bike rentals, and cocktail tasting in the bar and outdoor patio lounges, demonstrating the hotel's dedication to creating a unique experience for each guest. The cocktail tasting in the bar is a fun activity for both solo travellers and groups and ends with an ingredient-guessing contest where the winner walks away with a gift.
Rates begin at DKK 1100 **, approximately GBP 115*** a night
*Renovation numbers in GBP are based on currency conversions at press time
**Rates are based on single or double occupancy in Danish Krone, and are subject to each hotel's specific terms and conditions
***Rates in GBP are based on currency conversions at press time and are subject to change
Getting there
Flight time to Copenhagen is less than two hours. Scandinavian Airlines offers direct flights from Aberdeen, Manchester, Birmingham, London Heathrow and Dublin. Easyjet offers daily flights from both Stansted and Gatwick.