Britain's finest chefs unite for Action Against Hunger's Global Gastronomy Dinner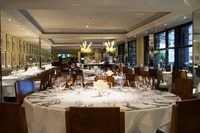 On 29th October, five of Britain's most exciting international chefs will come together at D&D London's classic riverside restaurant, Le Pont de la Tour, to create a unique gourmet meal for Action Against Hunger UK's Global Gastronomy evening, raising vital funds for severely malnourished children worldwide.
The Modern Pantry's Anna Hansen will join The Grain Store's Bruno Loubet, Nigel Haworth of Northcote, Robert Ortiz of Lima and Manchester House head chef Aiden Byrne in the kitchen, alongside Le Pont de la Tour Executive chef Tom Cook. Each chef will prepare one course of the luxurious five-course dinner, with Cook catering the canapé reception and overseeing the kitchen.
Guests can enjoy this once-in-a-lifetime gourmet meal guilt-free, taking in Le Pont de la Tour's breathtaking views of Tower Bridge with the knowledge that all proceeds raised support Action Against Hunger's life-saving work in more than 40 countries worldwide.
David Loewi, MD of D&D London says: "We are delighted that Le Pont de la Tour has the opportunity to host such a unique and gastronomic evening, with our own Tom Cook and Anna Hansen in the kitchen. We thoroughly support the work of Action Against Hunger and look forward to what is sure to be a very successful and memorable evening".
"It's great to host a dinner in aid of such a worthy cause", says Le Pont de la Tour Executive chef Tom Cook. "And to see some of the industries finest work together to support it".
Right now Action Against Hunger's staff are risking their lives to deliver vital food, water, sanitation and psychological support to people affected by conflict in Iraq, Syria, Gaza and South Sudan. Global Gastronomy offers food lovers an opportunity to help.
"As a chef, my life revolves around good, nutritious food, but I am all too aware that access to such food is a privilege many around the world don't enjoy," says Loubet, of The Grain Store. "That's why I am honoured to have been invited to participate in Global Gastronomy this year. Action Against Hunger does the important job of reminding us, in the hospitality industry, that the small steps we take will mean big things to tens of thousands of disadvantaged people around the world." says Loubet.
Tickets for the dinner cost just £150 per person, with tables of eight and 10 available. For more information, visit:
endhunger.actionagainsthunger.org.uk/globalgastronomy2014
Further details:
actionagainsthunger.org.uk/get-involved/events/social-events/global-gastronomy-2014/
W: lepontdelatour.co.uk