Colombo's top ten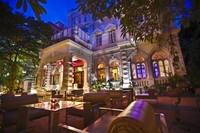 How much do you really know about Sri Lanka's capital city Colombo? Since 2009 – the culmination of the island's long-running civil war – Colombo has come on leaps and bounds. Where once dining and nightlife used to be confined to five-star hotels, today's Colombo is buzzing, awash with exciting independent restaurants, coffee shops, boutiques and rooftop bars. There are regular outdoor markets and the government has spruced up parks, tidied and illuminated pavements and been involved in sensitively converting historic colonial edifices into world-class wining, dining and shopping precincts.
Below highlights some of Colombo's best attributes and why a stop off here – for sightseeing, dining or shopping – should be considered on any round-the-island itinerary. And where should you stay? The design-led boutique hotel, Casa Colombo (casacolombo.com) of course! This innovative hotel set in a 200-year-old Moorish mansion has 12 funky rooms and suites, a fusion restaurant, a glass-encased bar and a pink swimming pool. The Chill Spa is its newest addition and offers a range of rejuvenating massages and decadent treatments based on both Asian and European traditions.
Colombo City Walks
Colombo resident Mark Forbes leads small group tours of the city's bustling Pettah (market) district, as well as explorations of the Fort area and the street food-lined Galle Face Green.
colombocitywalks.blogspot.com
Number 11
The former home of the late Geoffrey Bawa, Sri Lanka's foremost architect, is open to the public for guided tours. It is a masterpiece of design and a treasure trove of art and antiques.
geoffreybawanumber11.com
City shopping
For picking up souvenirs, Colombo has plenty to offer. Paradise Road is fab for home accessories; Barefoot for handlooms and Odel is Sri Lanka's original department store.
The Galle Face Green
On evenings and at weekends, the Galle Face Green explodes with colour as families flock here to fly kites, snack on street food, play ball games and watch the sun set over the sea.
Upscale dining
Sri Lanka's foodie scene is growing. Clique, a smart top floor restaurant-bar on Union Place has just hosted French Michelin-starred chef Richard Toix for a series of sell-out degustation dinners. Drop in for mouth-watering sous-vide steaks, Spanish paella and superb sushi.
cliquecolombo.com
Rooftop bars
In the last year or two, Sri Lanka's rooftop bar scene has exploded. Two top places for a sunset drink or alfresco tipple include ON14 at Ozo and the Sky Lounge at The Kingsbury.
Sunset at the Galle Face Hotel
No trip to Colombo is complete without sinking a sundowner from the atmospheric chequerboard terrace of the historic sea-facing Galle Face Hotel, built by the British in 1864.
Spa treatments
There are a number of spas dotted around the city, however this week marks the opening of Casa Colombo's new Chill Spa with rejuvenating packages for hotel guests.
Art scene
Sri Lanka's emerging art scene is represented at the excellent Saskia Fernando Gallery. The railings of the city's Viharamahadevi Park display artists' work, most prolifically on Sundays.
saskiafernandogallery.com
Dining and shopping precincts
The Old Dutch Hospital, The Racecourse and Arcade Independence Square are historic precincts that have been beautifully transformed into restaurants and shops. The ethically-minded Good Market is held on Saturdays in the 'Nuga Tree car park' of The Racecourse.
*Please quote 'The Sri Lanka Collection' when booking.
The Sri Lanka Collection, a UK-based representation and marketing company, works on behalf of a distinguished collection of Sri Lankan boutique hotels, villas and safari camps. The company raises awareness of Sri Lanka's outstanding boutique travel products and helps them to maximize their visibility in the UK. The Sri Lanka Collection is the first representation company of its kind to focus on the high-end client and on Sri Lanka alone.
For more information, visit srilankacollection.com.