Amazon Fire TV - Now shipping in the UK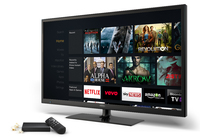 Amazon Fire TV, the streaming box on Amazon in the US, is now shipping in the UK. Fire TV is a tiny box that plugs into your HDTV to offer easy access to popular UK apps including BBC iPlayer, BBC News, BBC Sport, Demand 5, Sky News and Curzon Home Cinema, as well as Netflix, Prime Instant Video, Amazon Instant Video, Spotify, YouTube, and much more. Fire TV also brings photos, music and games to the living room – all for just £79.
"Our customers are very excited about Fire TV, and we're delighted to be shipping in the UK," said Jorrit Van der Meulen, Vice President, EU Amazon Devices. "Fire TV offers powerful performance in a tiny box at a great price. For just £79 it comes with an open ecosystem that provides access to a vast selection of content through BBC iPlayer, Netflix, Prime Instant Video, and Amazon Instant Video, enabling customers to stream movies and TV shows in up to Full HD on demand. Plus, with the exclusive ASAP feature and voice search that really works, it's never been easier or faster to jump into a great movie or TV show."
Amazon Fire TV features:
Voice search—simply speak the name of a movie, TV show, actor, director or genre into the remote, and you're done.
All the content—access to BBC iPlayer, BBC News, BBC Sport, Netflix, Prime Instant Video, Demand 5, Sky News, YouTube.com and more, plus a great selection of videos for rent and purchase. In addition, listen to music with Amazon Music, Spotify, TuneIn and more.
Powerful performance in a tiny form factor—quad-core processor with 3x the processing power of Apple TV, a dedicated GPU, plus 4x the memory of Apple TV or Chromecast for exceptional speed and fluidity. Delivers up to 1080p HD stunning video and support for immersive Dolby Digital Plus surround sound. All of this comes in an incredibly small package—Fire TV is 17.5 mm thin and includes a simple and sleek remote control with a built-in microphone.
Simple and easy to use—arrives pre-registered to your Amazon account so you can start watching in minutes .
An exclusive new feature called ASAP (Advanced Streaming and Prediction) predicts which movies and TV episodes you'll want to watch and buffers them for playback before you even hit play.
Hundreds of high-quality, low-cost games—such as Minecraft, Asphalt 8, NBA 2K14, and The Walking Dead, with more coming soon.
For more high-intensity and complex gaming, choose the Amazon Fire Game Controller, available separately.
X-Ray for movies and TV shows—see information about cast and crew, as well as trivia on your Fire phone or Fire tablet while your movie or TV show is playing.
See all of your photos and personal videos come alive on your big-screen HDTV—seamless integration with Amazon's Cloud Drive.
Great Games from Top Developers at Low Prices
Amazon has worked with game developers such as Mojang, Gameloft, Sega and Ubisoft to bring their games to Fire TV. Games available starting today include customer favourites such as Minecraft, Asphalt 8, NBA 2K14, The Walking Dead, and more. Hundreds of games are already available for Fire TV, and these are great games for such a small box and at surprisingly low prices.
Fire TV also comes with access to Sev Zero, a game built exclusively for Fire TV by Amazon Game Studios. Sev Zero costs £4.99 and is available for free for a limited time when you purchase the Amazon Fire Game Controller. Learn more about Sev Zero at amazon.co.uk/SevZero.
Pricing & Availability
Fire TV is available today for just £79—order at amazon.co.uk/fire. Fire TV is also available at Argos, Currys, PC World and Tesco.
If you haven't tried Amazon Prime, customers can get a free month's trial.