Top activities for children on a ski holiday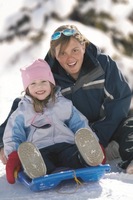 Fun for all the family: is it really possible? While many parents are filled with dread at the prospect of organising a family ski break, particularly if the youngsters aren't quite ready to take to the slopes themselves, there's no need to panic. VIP SKI has the perfect recipe for a fun family holiday.
VIP SKI's family skiing holidays are built with children very much in mind, and there is a small army of nannies at the ready with fun and innovative ideas to entertain youngsters on ski holidays this winter.
From sledging to snowballs, and husky dogs to hot chocolates, VIP SKI has every base covered to ensure everyone enjoys the best holiday possible.
At VIP SKI, the team of dedicated nannies works tirelessly to ensure the kids are entertained. In fact, so tirelessly that last season the 24 nannies clocked up an impressive 13,616 working hours. That's the equivalent of 567 days, 81 weeks or 18 months!
But there were plenty of children to be entertained, with 180 infants and 1,713 children aged between two and twelve years old, taken away on a VIP SKI break last season.
When they're not out showing the kids the delights of a snow holiday, VIP SKI's nannies are busy devising fun activities to really make it a holiday to remember.
Among the top activities enjoyed by kids of all ages (and a few adults too!) are

1. Sledging
2. Bum-boarding
3. Snow painting
4. Bubble trips
5. Treasure hunts
Sledging and bum-boarding are perennially popular, while snow provides the best blank canvas for a bit of painting. Forget pens and paper – budding artists should just wrap up warm and get creative with the landscape this winter.
Bubble trips are also in high demand at VIP SKI's luxury resorts. Intrepid explorers can carve out a mountain adventure, searching for the elusive Yeti or Gruffalo by following the well-placed footprints that lead to . . . hot chocolate and marshmallows! The nannies also do love to dress up – a fun activity that includes the children too! – So don't be surprised if clients spot a few mysterious mountain creatures roaming around.
For children aged over three years old, treasure hunts in the snow are popular. VIP SKI nannies make multi-coloured ice-cubes and hide them outside, a colourful treasure for explorers to hunt for.
And they have plenty of ideas for indoor fun, too. It it's too cold to head outside, kids aged from as young as one can have a go at making their very own snow – bringing the joy of the outdoors to the warmth of the indoors! With a bit of warm water and some soap flakes you can whisk up your own frothy snow, perfect for building indoor snowmen A bit of glitter, food colouring or paint thrown into the mix adds that extra bit of sparkle!
With nannies available in almost all of VIP SKI's resorts, including Val d'Isere, Meribel, Morzine, Les Gets, Avoriaz, Alpe d'Huez, La Plagne and St Anton, guests can be assured that a skiing holiday with VIP SKI will be fun, action-packed and stress-free. All of the nannies are qualified to the highest standards, and are dedicated and enthusiastic- allowing parents the luxury of free time, safe in the knowledge that the kids are in the best hands. From pyjama parties to the piste, and everything in between, VIP SKI's committed team are here to help.
To find out more about VIP SKI's family holiday packages and about the fantastic team of nannies and what they can provide, visit vip-chalets.com.