Pointer celebrates its 21-year association with Peugeot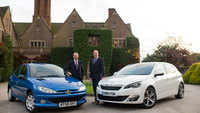 Peugeot and Pointer Ltd, one of the largest independent specialist fire and security integrators in the UK, are celebrating 21 years of doing business together. Pointer moved to Peugeot as its primary supplier of fleet vehicles following a professional presentation of the 306 hatchback at the 1993 Scottish Motor Show.
Saluting this association, representatives past and present from the two companies met for a special dinner at the Mallory Court Hotel, near Leamington Spa, close to Peugeot UK's Headquarters in Coventry, to reflect on their mutually successful progress together. A 206 (the Brand's best-ever selling car) and the new 308 (2014 European Car of the Year) were positioned to illustrate just part of the historical vehicular journey together.
Pointer Ltd is based in Glasgow and provides a national service from a network of regional offices. It has built up an extensive business to deliver design and engineering products of recognised excellence and tailored solutions to companies that recognise the importance of managing risk to their staff, premises and key data. A recent example of its work was the installation and integration of specialist security surveillance and fire prevention systems for the new Grampian Prison for the Scottish Prison Service.
Sandy Rowan, Pointer Ltd.'s C.E.O. commented: "An essential part in the development of a successful business is the partnerships you make on the way. You can learn from others' expertise to enhance yours. Peugeot is a great partner to work with. It has always provided us with cost effective, dependable and durable products. For us the new 308 SW is the perfect car for our technical staff. Special mention should also be made of the Fleet team that works really hard to look after us. Over the years our companies have built up a very strong relationship, based on trust, support and a willingness to work together for our mutual benefit."
Pointer's philosophy for excellence with a personal touch runs throughout the company and extends to the vehicles it operates. Peugeot All-Terrain Vehicles (ATV) with Grip Control for safer and more versatile driving capability permit Pointers to attend to emergency call-outs regardless of the location and weather conditions. The 308 SW makes up the majority of the fleet and meets the engineer's requirements to respond to daily business needs which include responding to call outs as well.
Pointer Ltd has recently placed orders for over 30 new Peugeot vehicles. The largest part of the order is for the new 308 SW and hatchback (2014 European Car of the Year) and Bipper van with ATV. The company also runs the refined 508 executive Saloon, 208 hatchbacks and Expert and Partner vans (one the UK's best-selling small vans).
Martin Gurney, Fleet & Used Vehicle Director, commented: "Our approach of working with companies to provide products and support services that best suit their requirements is demonstrated clearly in the relationship we have with Pointer Ltd. It understands the importance of our partnership and what a good working relationship can mean to sustaining and enhancing its business. Peugeot products are presently at their most modern, with an invigorated and extensive range that includes the exceptional new 308 - 2014 European Car of the Year."