'Hudson's Historic Houses & Gardens' makes the perfect Christmas gift for heritage lovers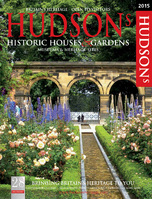 Anyone who loves a day out will be looking forward to the 2015 Hudson's Historic Houses & Gardens. Available from Monday 8 December, the guide makes the perfect Christmas gift for anyone who loves history and exploring Britain. Pre-ordering for Christmas delivery will save £3 off the recommended retail price. Not only does the 500 page guide contain over 1,500 stunning images, maps, opening times, details of where to eat, shop for food, gifts and plants as well as special events, but there is also information on where to celebrate next year's special anniversaries. These include the Magna Carta (1215), Agincourt (1415), the Battle of Waterloo (1815) and the Women's Institute (1915). Another reason for heritage and history lovers to purchase this lavishly illustrated and essential guide!
Now in its 28th year, the guide brings together more than 1,000 of our grandest stately homes, historic houses and gardens including private and public owned properties, the National Trusts, English Heritage, Historic Scotland, Cadw and Historic Royal Palaces. Organised regionally, the guide helps readers to find places to visit near their home or is an unrivalled tool for planning (and dreaming) about trips to other parts of the UK.
The 2015 edition features over 100 pages of fascinating interviews and articles, catching up with Fiona Bruce and the Antiques Roadshow team at Chenies Manor House in the latest series of the show; Dame Jenny Abramsky talking about her 5 years as Chairman of the Heritage Lottery Fund and the difference it has made to Britain; and Simon Jenkins, Chairman of the National Trust, picking some country house views that he thinks are among the best in Britain. Gardeners from some of the most celebrated heritage gardens in the country share their secrets and favourite rose varieties. Plus what makes someone rescue a doomed country house, how historic estates survived two world wars, trips by car and on foot, Hudson's Heritage Award winners, recipes and much more!
Sarah Greenwood, publisher said "2015 is set to be a great year for getting out and enjoying Britain's heritage. Hudson's is 'the bible' for visitors to historic houses & gardens and makes a good value and inspirational Christmas gift that will deliver so much pleasure for the whole of the year to come".
Pre-publication copies can be ordered at a special price of £13.99 from hudsonsheritage.com. After publication, the guide is available from all major retailers including WHSmith's, Waterstones, Amazon plus independents at a price of £16.99.