Ultimate Driving at Goodwood powered by BMW launched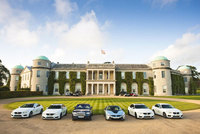 Goodwood is delighted to announce that the UK's finest driving experience; Ultimate Driving at Goodwood powered by BMW, has been launched.
Ultimate Driving At Goodwood powered by BMW gives you the chance to hone your skills behind the wheel with expert tuition and have an off-road adventure like no other on an authentic 32-mile course that takes in the whole of the 12,000-acre Goodwood Estate.
Four key components make up Ultimate Driving At Goodwood; Adventure, Performance, Academy and Ultimate, all of which will be available to individual customers and groups.
Adventure pitches you head-first into nature at its rugged best as you drive versatile BMW X5 and X3 machines across Goodwood's glorious Estate. Take in breathtaking views and stunning scenery while avoiding the pitfalls of forests, hillsides and chalk pits that await.
Performance puts you behind the wheel of BMW's exceptional M235i, M3, M4, M5 and M6 cars, plus the Alpina D3 Bi-Turbo, all equipped with Michelin's ultra-high-grip tyres. Expert one-on-one tuition from our team of highly-experienced instructors will have you honing your high-speed driving skills in no time.
Academy gives those under the age of 17 the thrill of getting behind the wheel of a MINI Cooper for an unforgettable drive around the historic Motor Circuit, while over-17s can master high-speed driving and push the limits of the machinery even further with a winter handling session on our special high-tech, powerslide area.
Ultimate gives visitors to Goodwood the chance to tailor their full-day experience to suit their own needs, combining the very best elements of Performance, Adventure and Academy and creating the most exhilarating driving experience of your life.
Lord March said: "This combination of Goodwood and BMW, in partnership with Michelin, creates a fusion of skills and expertise that will provide a truly exceptional new experience. With expert tuition at the Motor Circuit to help improve driving skills in some fabulous cars, and a challenging off-road course encompassing areas of the Estate few have seen before, this will be a more hands-on activity than anything done before."
Graeme Grieve, BMW Group UK Managing Director, said: "Through this unique partnership between BMW Group and Goodwood, visitors will have an unforgettable day in this wonderful setting. From the natural beauty of this exceptional Estate to the thrills of the historic Motor Circuit, they will experience the best in our world-class line-up of performance cars - both MINI and BMW, as well as the ultimate luxury car from Rolls-Royce. We are delighted and excited to launch this programme today."