Shake Shack London to collaborate with world-renowned chef Massimo Bottura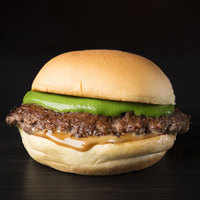 On Sunday 9th November, Shake Shack Covent Garden is proud to announce it will be dishing up a limited edition burger collaboration with acclaimed chef Massimo Bottura.
Chef Bottura, whom Mario Batali calls "the Jimi Hendrix of Italian chefs," opened Osteria Fran¬cescana in Modena, Italy, in 1995. It has since earned three Michelin stars, is currently ranked third in The World's 50 Best Restaurants awards, and achieved near perfection in the l'Espresso dining guide with the highest vote ever recorded—19.75 out of 20.
Shake Shack's limited edition burger—The Emilia (£8.25), named after the Emilia-Romagna region of Italy—was masterfully crafted by Chef Bottura and Shake Shack culinary director Mark Rosati. It features a custom-blend 100% Aberdeen Angus beef patty ground with cotechino sausage and parmigiano reggiano, topped with salsa verde and Villa Manodori balsamic mayonnaise made with Chef Bottura's Villa Manodori Artigianale balsamic vinegar from Trebbiano grapes grown in Italy. Buon appetito!
In celebration of this week's release of his first English language cookbook, Never Trust a Skinny Italian Chef (Phaidon, £39.95), Chef Bottura will appear at the Covent Garden Shack in the morning of November 9th to serve up burgers, greet fans, and sign copies of his book.
"London is an incredible city, so vibrant and accepting of different cuisines. I can't imagine a better place to serve my burger in evolution!" says Chef Bottura. "And I'm especially excited to be bringing the flavours of my beloved Emilia-Romagna—cotechino sausage, parmigiano, and balsamic vinegar, my flesh, bones and blood—to Covent Garden."
Only 500 of The Emilia burgers will be served—available on a first-come, first-served basis. For those craving a ShackBurger or Union Shack Concrete, the entire Shack menu will be available throughout the day as well.
"I have always admired Massimo's imaginative and whimsical approach to Italian cuisine," says Mark Rosati. "We couldn't be more excited to be partnering with one of Italy's most charismatic and imaginative chefs."
For more information, including a list of all Shake Shack locations around the world, visit shakeshack.com.