Official: Great beer and beds at BQA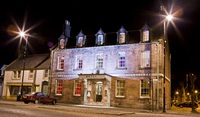 The Buccleuch & Queensberry Arms (BQA) Hotel is enjoying a double celebration after being listed in the Michelin Guide for Great Britain and Ireland 2015, and receiving a listing in CAMRA's Good Beer Guide 2015 just six months after its relaunch.
The BQA, located in Thornhill, Dumfries and Galloway, underwent a full renovation, which included stripping the 18th-century building back to bare bricks after it had fallen into disrepair. Following 18 months of work, the new owners reopened the doors in April of this year with a weekend of events showcasing the hotel and local region attended by the Duke of Buccleuch.
Just six months on the hotel is now enjoying above average occupancy every month and has picked up two industry listings attesting to the success of the restoration. CAMRA, seen as the authority on real ales and with more than 164,000 members worldwide, has listed the hotel in its Good Beer Guide 2015. Highlighting just 4,500 of the best real ale pubs in the UK, the BQA's inclusion is a coup for such a young hotel.
On top of this, the Michelin Guide for Great Britain and Ireland has added the hotel to its 2015 edition. Renowned throughout the world, the Michelin Guides are recognised as providing the definitive appraisal on hotels and restaurants. The BQA's review stated:
"Smartly refurbished coaching inn, designed by the owner, who also runs an interiors shop. Boldly coloured bedrooms are named after various estates owned by The Duke of Buccleuch and come with eclectic artwork and superb bathrooms. Informal dining options range from bar snacks to a more adventurous a la carte."
General Manager, Arthur Sweerts de Landas, describing the last six months, said: "It's been a rollercoaster. During a long restoration project it's easy to lose heart, particularly as we'd only anticipated a cosmetic refurbishment. However, the former coaching inn is such a wonderful building with a rich history that we knew it was important to provide the full restoration it deserved.
"These two listings are great to receive, especially for such a young hotel. But more importantly for us, they signify that we're on the road to achieving what we set out to: creating a thriving hub for the local community, and relaxed, homely accommodation for visitors to Dumfries and Galloway.
"Looking ahead we have a lot of plans to capitalise on the growing interest in Dumfries and Galloway from both UK and international visitors. As part of my role with Destination Dumfries & Galloway, we're committed to championing the region as a must-visit destination for both field sports and more extreme outdoor pursuits. The news of the planned Lowther Hills Ski Resort is certainly a fantastic boost and another step in putting the region firmly on the map."
The Buccleuch & Queensberry Arms is well-placed for exploring the local area, located just four miles from the 600 year old home of the Douglas family, Drumlanrig Castle and its surrounding 90,000 acre estate. Whether fishing, walking, wildlife spotting, mountain biking or taking part in field sports, the county's stunning coastlines, forests, rivers and rugged hills offer something for everyone to enjoy.