Zambian rhino puts spotlight on poaching crisis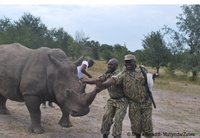 Zambia's Mosi-Oa-Tunya National Park now has its own celebrity rhino, Inongwe a rising star on Acacia Africa's Twitter and Facebook pages. Chosen as mascot for the safari specialist's anti-poaching campaign, Inongwe operates under the hashtag #SaveInongwe. Building awareness for the plight of rhinos online is nothing new, but the tour operator is also highlighting the positive steps being put in place on the ground. A major factor behind the decision to work with the Zambian park: no rhinos have been poached since 2007 and they remain under 24-hour armed guard. Even more exciting news Inongwe is due to deliver a second calf in early 2015 – a significant event as rhinos only give birth once every two to four years.
Arno Delport, Sales & Marketing Manager at Acacia Africa comments "To date most campaigns have focused on the negatives and while we are building awareness of the facts we feel there is a need to include locations where rangers are effectively helping to combat rhino poaching. A force for good, we're encouraging other parks and reserves, NGOs and cause related organisations across Africa to share their news using the #SaveInongwe hashtag. Our tours attract travellers from several continents including Europe, North America, Australasia and Asia, and many safari goers choose to talk about their experience and share their photos online. By coming together on Twitter and Facebook we can make a real difference, and hopefully the campaign will inspire more people to visit Africa and donate to worthy initiatives."
The poaching crisis has escalated over recent years and rhinos are facing the very real threat of extinction by 2026. Driven by demand from countries including China and Vietnam, rhino horn is valued for its supposed medicinal properties, but mere myth it is actually composed of keratin the same material found in hair and nails.
As part of the initiative Acacia Africa named one of their 20 strong fleet after Inongwe and several of their upcoming overland camping expeditions are to be focused on rhino conservation. The following departures will include a Bad Hair Party on 09 December and the chance to win a rhino walking safari in the Mosi-Oa-Tunya National Park - adventurers from all five tours meeting up in Livingstone.
24-day South East Adventure departing 16 November. From £1,295pp (no single supplement) + local payment from £576pp.
31-day South East Adventure departing 16 November. From £1,645pp (no single supplement) + local payment from £757pp.
22-day Zanzibar, Victoria Falls & Kruger departing 25 November. From £1,125pp (no single supplement) + local payment from £407pp.
19-day Desert Tracker departing 22 November. From £850pp (no single supplement) + local payment from £472pp.
7-day African Insight (northbound) departing 04 December. From £435pp (no single supplement) + local payment from £169pp.
On the back of the itineraries, the Africa specialist is also giving everyone the opportunity to participate in the "Bad Hair Day Challenge." Rhino supporters should upload their Bad Hair Day selfie to Facebook or Twitter using the #SaveInongwe hashtag, and either nominate or donate to their favouirite rhino charity.
All travellers passing through Livingstone on Acacia Africa's overland tours will have the opportunity to meet Inongwe on an optional rhino walk, the tour operator's camping expeditions starting from just seven days.
For more information, visit acacia-africa.com.