The Wild Game Co. arrive on Charlotte Street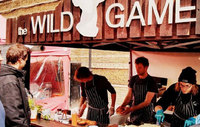 This winter The Wild Game Co. will launch their first stand alone pop-up and dining concept on one of London's foodie destinations, Charlotte Street. Diners can enjoy the finest wild venison and game, sourced directly from the Scottish Highlands, with an array of delicious burgers and salads featured on the menu in a rustic setting.
The Wild Game Co. are a young and dynamic team, who are having fun cooking and promoting British game, whilst remaining true to its heritage. Founded by Andy Waugh, who hails from just north of Inverness, all of their meat is sourced and then butchered with care by his family's game-butchering business, which has been in existence for over 30 years.
Andy and his clan of 'kilt-wearing chefs' have been making an impression on the London dining scene and in 2012 they were the winners of 'Street Food of the Year' at The Young British Foodies Awards and were voted by The Evening Standard as one of the top five places to eat game in London. Working with Calum MacKinnon, founder of successful bar concepts, Amicus Apple Edinburgh/Aberdeen and NOX Aberdeen, The Wild Game Co. looks set to bring a slice of Scotland to London.
The Wild Game Co will have a changing and reasonably priced seasonal menu. Dishes will include the Veni-Moo Burger – two patties stacked on top of each other, one of Venison and one of Beef with melted Cheese, Beef Bacon and the Wild Game Co. Sauce, Stovies a slow cooked Venison stew and the Wild Salad featuring roasted Squash, Broccoli and Venison. The pop-up will also sell some of the artisan products used in the restaurant from Andy's native Scotland, including Rubies In The Rubble Chutney and Cullise Rape Seed Oil.
The Wild Game Co. are staying true to their roots with design features of the pop-up including original hard wood floors, stag heads mounted on the walls and butchers hooks hanging from the ceiling. The interior has a very rural and authentic feel where guests can experience a taste of the wild without stepping foot outside of London. Private dining is also something which the new Wild Game Co. venue lends itself to with an event space available to book on Saturdays and Sundays for up to forty people.
Andy says of the project
"We're delighted to be bringing the North of Scotland to Central London with the launch of the Wild Game Co. pop-up. Our produce is not just wild or from 'somewhere' up North, we can tell you exactly who shot it and where from The Highlands, and we look forward to sharing it with you soon!"
So come and celebrate the Wild Game Co. moving onto pastures new...
The Wild Game Co Pop-Up
65 Charlotte Street,
London,
W1T 4PQ