Nissan Qashqai: Innovation and excitement times two million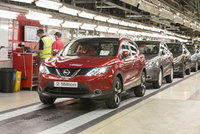 Less than eight years after inventing the crossover segment, the Nissan Qashqai has once again made automotive history after production passed two million units in record time.
With Nissan's unrivalled package of quality, styling and technology, the Qashqai has reached its latest manufacturing milestone quicker than any other model in the history of the UK car industry.
Designed, engineered and built in Nissan's UK facilities for European customers, this latest landmark caps a remarkable 2014 for the Qashqai, with January's launch of the new generation model sparking a string of accolades including What Car? magazine's coveted Car of the Year.
Paul Willcox, Chairman, Nissan Europe, said: "The Qashqai is helping Nissan to go from strength to strength in Europe. Two million customers can't be wrong. This is further evidence of their trust in our brand. Thank you to all of our loyal customers and I congratulate all my colleagues in Sunderland for reaching this latest milestone.
"The Qashqai is one of 12 new models we have launched in the past 12 months in Europe, which has given Nissan the strongest and most cohesive line-up in our history."
The two millionth Qashqai to roll off the production line was a magnetic red model in the new n-tec grade which is destined for a UK customer. Introduced last month, the new grade includes unique new styling features as well as Nissan Safety Shield technologies like Forward Emergency Braking, Traffic Sign Recognition, Lane Departure Warning and High Beam Assist.
Nissan has invested £534 million in the design, development and production of Qashqai in the UK, supporting more than 11,000 jobs in the UK car industry. Of the two million Qashqais made in Sunderland since December 2006, 85% (1,706,633) have been exported to 132 international markets, from the Congo to Qatar.
UK Secretary of State for Business, Innovation and Skills, the Rt Hon Dr Vince Cable MP, said: "Nissan is one of the driving forces behind the UK's world-renowned automotive industry. They currently employ more than 11,000 people across the UK and have invested more than £500m in the innovation, design and production of this car, directly supporting the local and national economies. The UK automotive industry is thriving. Last year, we increased our production to more than 1.5 million cars in the UK – that's a car rolling off the production line every 20 seconds.
"Through the UK government's industrial strategy we are backing the automotive sector as it goes from strength to strength. We are providing the right environment to give businesses the confidence to invest and create high-skilled jobs."
Qashqai is made alongside the all-electric LEAF on Line 1 at Nissan Sunderland Plant, which has been on round-the-clock, three-shift production since 2010 in order to meet customer demand, with a car currently rolling off the production line every 62 seconds, or 58 per hour.
As well as What Car? magazine's Car of the Year, awards for Qashqai in 2014 include Tow Car's 'Car of the Year', ebay customers' 'New Car of the Year' and the Prize for Quality from prestigious Spanish business magazine Ejecutivos.
Fundamental to the Qashqai's development were Nissan's European Design Centre in Paddington and European Technical Centre in Cranfield, Bedfordshire. The popularity of Qashqai has also helped Nissan to reach record market share in the UK, with sales and marketing operations based in Rickmansworth, Hertfordshire. More than 11,500 people are employed in total at these sites and in UK dealerships, supporting a further 26,000 jobs in the UK supply chain.
Total global production of the Qashqai now tops 2.5 million, with the first generation Qashqai also made by Nissan in China and Japan. From 2015 the new Qashqai will also be manufactured in Nissan's plant in St. Petersburg for domestic sales in Russia.
The Qashqai is now closing in on the Micra as the highest volume car in the history of Nissan Sunderland Plant, with 2,368,704 Micras made in Sunderland over an 18-year period from 1992 to 2010.