Golf in Tenerife ready to hit new heights in 2015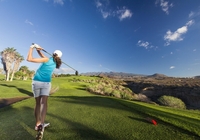 The soaring reputation of golf in Tenerife is set to reach new heights after the sunshine island was unveiled as the host venue for the 2015 International Golf Travel Market (IGTM) for the first time in its history.
The largest of the Canary Islands and one of Europe's fastest- growing golf destinations will have the honour of staging the world's premier event for the golf tourism industry when it takes place in Costa Adeje from October 5-8, 2015.
Blessed with average annual temperatures of 23?, Tenerife is an established destination for European golfers both in the winter and summer thanks to its perfect all-year round climate.
Featuring nine different and varied layouts, Tenerife also offers 70km of beaches and a wide range of cultural highlights and activities both on and off the water, making it the ideal location for a golf break.
Carlos Alonso, president of the Tenerife Government (Cabildo), said: "Tenerife is now firmly established as a destination for European golfers. Not only will it be a great privilege for us to host IGTM, it gives Tenerife an unrivalled opportunity to showcase itself as a winter and summer destination.
"Beyond golf, we believe we can offer tourists an exceptional and varied visitor experience to our island. From the breathtaking views from the peak of Mount Teide to our world-class tourist attractions which include whale and dolphin watching, star gazing and Europe's largest water park, Tenerife really does have something for everyone to enjoy.
"The Tenerife government is dedicated to the continued promotion and growth of golf tourism, and hosting IGTM is an important part of that investment."
Tenerife has won widespread praise as an all-year-round golfing destination this year and, among its notable achievements, hosted the Tenerife Open de Espana Femenino in September as well as staging the Fred Olsen Challenge de España on the Men's European Challenge Tour, at La Gomera, in May.
The island features nine different and varied layouts: Buenavista in the west; Real Club de Golf de Tenerife in the north; and Golf Costa Adeje, Abama, Las Americas, Golf del Sur, Amarilla, and Los Palos in the south. Tecina Golf is a 40-minute ferry ride from the mainland on the beautiful island of La Gomera.
For more details on playing golf in Tenerife, visit webtenerife.com/golf.